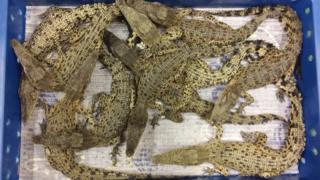 Fifty crocodiles have been seized at Heathrow airport terminal after their transport conditions breached regulations.
The year-old reptiles, which arrived on a trip from Malaysia, had fought one another during the journey due to their cramped situations.
Each of the five transport boxes used had room regarding four crocodiles – but ten foot-long animals were in each one of these.
A Border Push spokesman said "little attention" have been paid to the crocodiles' welfare.
One crocodile has given that died.
The creatures had been destined for a farm within Cambridgeshire – where they were to become bred for meat – yet are now being cared for by officials through the Convention on International Trade within Endangered Species (CITES).
The remaining 49 crocodiles will be re-homed, a Home Office statement said.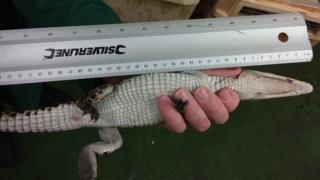 Grant Miller, mind of the national Border Force CITES team at Heathrow, said: "It is just not acceptable for reptiles to become transported in this way. "
He added: "We will catch anything that contravenes CITES regulations, which means this should serve as a warning to people thinking about transporting wildlife in such circumstances. "