A Decade of Banks Behaving Badly Is Being Laid Bare in Australia
By
Bribery, lies, and charging the dead among misconduct admitted

Inquiry may lead to slower earnings growth, higher costs
In a quiet courtroom in Melbourne, a decade of scandalous behavior at Australia's biggest banks is being forensically laid bare.
From lying to regulators, falsifying documents and taking bribes to extracting fees from customers long since dead, the revelations at the quaintly-named Royal Commission into Misconduct in the Banking, Superannuation and Financial Services Industry have shocked and angered the public.
It's a sharp fall for an industry that largely dodged the opprobrium and hefty fines heaped on U.S. and European banks after the global financial crisis a decade ago, from which Australia emerged recession-free. With a relative lack of political and regulatory scrutiny, bad behavior flourished.
"In terms of exposure to the public, there has never been anything like it," Allan Fels, who ran Australia's competition regulator from 1989 to 2003, said in an interview. "The key thing is it has been powerfully conveyed to every Australian. Their attitudes will never be the same and their demands for the government to do something about it are massive."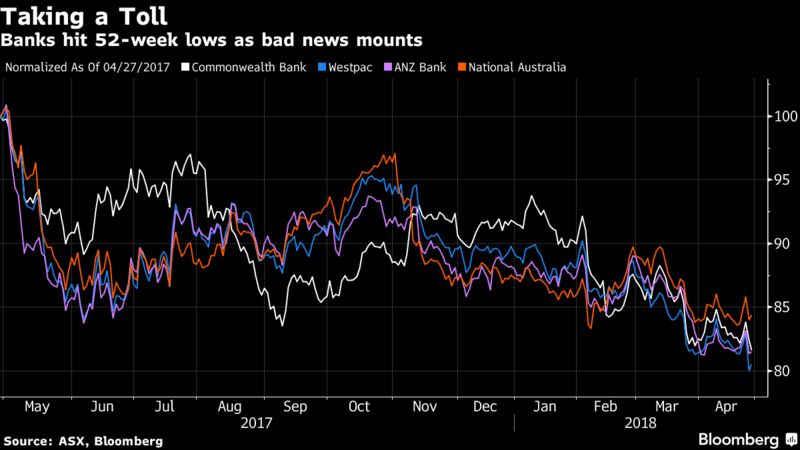 "The banks didn't start this way, they've just evolved into it," said Ian Ramsay, professor of commercial law at Melbourne University who headed a recent government inquiry into how the financial industry handled complaints. "To produce products — whether they happened to be superannuation or a new managed fund — and at the same time offer advice on that, they were able to get fees all the way through the system."
"It looked such an appealing model," he said. "Left behind was the concept of 'can we compete on the quality of our advice.'"
The consequences have been devastating. The inquiry has heard how people have lost homes and retirement nest eggs after being pushed into inappropriate products that delivered hefty fees to advisers. In one case, a woman was told to shift her retirement savings in a move that would have cost her A$500,000. She demurred.
Banks and financial companies are the second-least trusted industry in Australia, according to research conducted last year by Edelman Intelligence. Less than on-third of Australians trust banks to do the right thing, according to the research, which was conducted for the Australian Bankers' Association.
The simmering resentment — fueled by a sense banks were gouging fees to fuel record profits and sky-high executive pay — boiled over last year when Commonwealth Bank was sued for systemically breaching anti-money laundering rules, adding impetus to calls for the wide-ranging and powerful inquiry.
The relentless flood of wrongdoing has politicians and business figures who initially opposed the inquiry now questioning whether the banks need to be broken up. Former competition czar Fels agrees.
"Many, many actions are required, but we do need a structural solution as part of a big package of reform," said Fels, who wants a formal split between giving advice and creating products. "We might not need it if we were totally confident there was a culture of high ethics and legal compliance on the part of the financial institutions. But their actions in recent years have demonstrated they can't be relied upon or trusted."