Lie-flat bed modules could be added to lower-deck cargo areas

Planemaker working with seat manufacturer Zodiac on concept
It won' t be a room with a view, but may help prevent neck strain. Passengers flying on Airbus SE planes will soon be able to slip down into the cargo hold for a proper nap.
The European jetmaker is working with seat manufacturer Zodiac Aerospace on the design and construction of lie-flat beds to fit in lower-deck cargo areas. The berths will initially be offered on Airbus A330 widebody aircraft from 2020, the companies said Tuesday at a conference in Hamburg.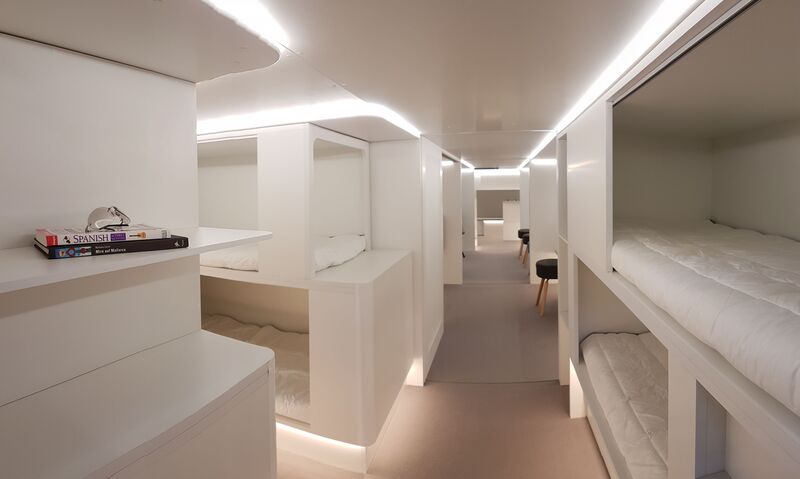 The idea for specially-designated sleeping areas on planes was also raised last month by Qantas Airways Ltd. Chief Executive Officer Alan Joyce, who said the airline is studying options for making ultra-long haul flights more bearable for passengers. Qantas is exploring direct links from Australia to the U. S. and Europe that would require travelers spend as many as 17 consecutive hours in flight. Joyce said the airline could introduce a new four-class structure, with part of the cargo hold utilized for beds.
Under Airbus' s plan, the sleeping berths would be installed as modules that could be quickly replaced with regular cargo fittings during an aircraft' s typical airport turnaround. Holds have in the past been designed as cabin crew rest areas and for ablutions.
Airlines will be able to retrofit old planes with the modules or build them into aircraft coming off the production line, according to the manufacturer. Airbus is also studying the possibility of offering similar sleeper compartments on its A350 airliner.