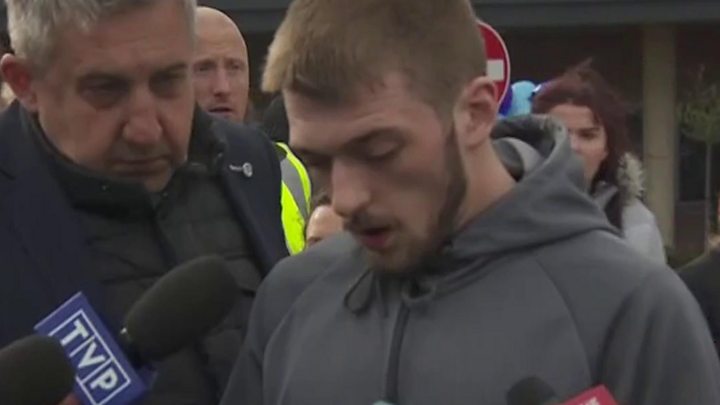 The father of seriously ill toddler Alfie Evans says he wants to "build his relationship" with the hospital he has been locked in a legal battle with.
Tom Evans, who has been fighting to take his 23-month-old son out of Alder Hey Children's Hospital, said he now wanted to be "left alone" to do so.
The 21-year-old praised staff where Alfie is being treated for their professionalism and "dignity".
He also thanked supporters Alfie's Army but asked them "to go home".
The boy's parents have lost every legal challenge to a High Court ruling in February allowing the hospital to switch off the toddler's ventilator.
His life support was withdrawn on Monday .
Mr Evans delivered a statement outside Alder Hey after a meeting with doctors at the hospital.
The message, on behalf of himself and Alfie's mother, Kate James, said: "Our lives have been turned upside down by the intense focus on Alfie and his situation.
"Our little family along with Alder Hey has become the centre of attention for many people around the world and it has meant we have not been able to live our lives as we would like.
'Dignity and comfort'
"We are very grateful and we appreciate all the support we have received from around the world, including from our Italian and Polish supporters, who have dedicated their time and support to our incredible fight.
"We would now ask you to return back to your everyday lives and allow myself, Kate and Alder Hey to form a relationship, build a bridge and walk across it. "
He said: "Together we recognise the strains recent events have put upon us all and we now wish for privacy for everyone concerned.
"In Alfie's interests we will work with his treatment team on a plan that provides our boy with the dignity and comfort he needs. "
He added there would be no more statements issued or interviews given.
The couple had previously expressed strong criticism of medical staff at Alder Hey amid the legal proceedings.
Mr Evans had suggested his son was a "prisoner" at the hospital, and it is understood the couple had argued Alfie was being deprived of his liberty in a submission to the European Court of Human Rights.
He has also cast doubt on doctors' assessment of his son, and made a statement before Thursday's meeting suggesting Alfie had been misdiagnosed.
A court hearing on Tuesday was told Mr Evans had, with the help of a legal adviser, lodged a private prosecution of doctors at the hospital, allegedly for murder.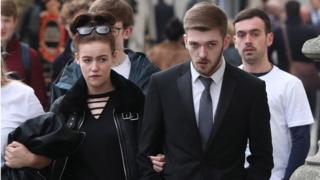 On Wednesday, bosses at the Liverpool hospital defended staff who they said had endured a "barrage" of abuse.
Merseyside Police is investigating claims patients and staff were intimidated.
Hospital trust chair Sir David Henshaw said in an open letter that staff had been the subject of "unprecedented personal abuse that has been hard to bear".
Vatican-linked hospital
The latest attempt to allow Alfie to be transported to the Vatican-linked Bambino Gesu Hospital in Rome was rejected by the Court of Appeal on Wednesday.
Mr Evans' barrister Paul Diamond said if the court had ruled in the family's favour then Alfie would have been taken to Italy straight after the hearing.
Mr Diamond told the court a military air ambulance was on standby "at the request of the Pope".
On Monday, the Italian government granted Alfie citizenship in the hope he would be given an "immediate transfer".
But hours later, his ventilator was switched off and the order preventing him from travelling abroad was put in place.
Alfie, who has a rare undiagnosed degenerative neurological condition, has been in Alder Hey since December 2016.
Alder Hey Hospital has been unavailable for comment.