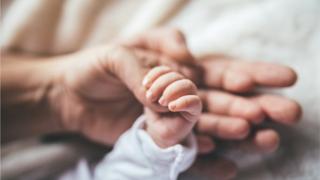 Three out of five parents whom went back to work after their child died said no-one talked for them about their loss, a stillbirth charity says.
The survey of more than 2, 500 bereaved parents also found that most employers failed to offer any support.
One father said he or she was sacked after taking 7 days off when his baby passed away.
Another father, Lalu Wood, who lost his two-day-old daughter, says deaths should be recognized and not ignored.
"It's difficult to start a conversation about it yet I would rather talk about her compared to not, " he says.
"Our baby was part of existence for a long time. "
Sands, the stillbirth and neonatal dying charity, is calling on colleagues plus employers to find the words to talk about losing a baby.
Dan, through Warwickshire, returned to work in a huge team after Layla, his very first baby with wife Amanda, passed away in December 2014.
'Talking helped us grieve'
Recognising how uncomfortable some individuals might be talking to them about what occurred, the couple wrote down their own experience on paper and handed this out to colleagues and friends.
They also told people to question them about it if they wanted.
"Some felt comfortable, some did not, but overwhelmingly most mentioned this.
"And talking actually helped us both with the grieving process, " Dan says.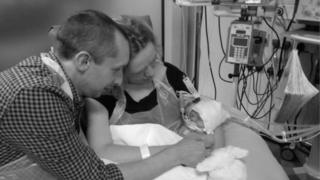 However , not every bereaved parent has such a positive encounter.
One mum who also completed the Sands survey left a comment: "At first my colleagues in no way said a word about the baby, although quite a few of them, which includes my manager, attended the memorial, which was very kind and very encouraging. "
Slowly people did broach the subject, yet she said: "I wish somebody had said to them it's OKAY to talk to me about the baby. inch
Another mum through south west England said people at the office moved on quickly "excitedly telling myself about their baby news", therefore she didn't bring up the subject of the girl baby's death.
Reactions to the survey found that just one in five parents had been provided or given any support by way of a employer on their return to work plus around half said employers failed to discuss entitlements to pay and depart following the death of their baby.
Two out of five mothers and fathers said they were not offered any extra time away from work.
If a baby is stillborn right after 24 weeks pregnancy, or comes into the world alive at any time but dies soon after birth, parents are entitled to maternity, paternity and shared parental leave, in addition to full parental rights and advantages.
The government is suggesting two weeks of additional pay plus leave for bereaved parents through 2020.
In the UK each day, 15 babies die before, throughout or soon after birth.
'I'm so sorry'
Dr Clea Harmer, leader of Sands, said: "Sadly, the particular death of a baby is not an unusual event but too often, bereaved mom and dad are faced by a wall of stop because people around them, family members, friends, and colleagues, are dropped for words.
"Death is never an easy issue and when a baby dies it is also harder to talk about.
"But finding the right words at the correct time can really help to support bereaved mom and dad and families if they need it most.
"Not everyone will be ready to talk about their particular bereavement – but simply stating, 'I'm so sorry, ' for instance , can really help. "
Doctor Harmer added: "For grieving moms and dads, returning to work may be a difficult action but the workplace can be a vital way to obtain support. "