Bitcoin, the biggest cryptocurrency, extended its decline over the long holiday weekend, failing to reverse a selloff that began after an unprecedented rally fell short of breaching $20,000.
The drop brings more end-of-year weakness to a market that last week had its worst four-day tumble since 2015.
"The West is what's causing this selloff," said Mati Greenspan, senior market analyst at Tel Aviv-based online broker eToro, pointing to increased trading in dollars and less in yen. The recent cryptocurrency surge was so steep that investors were prone to take money off the table going into the Christmas holiday season, he said.
The retrenchment isn't typical for cryptos, which often snap back after a few losing sessions. The last time bitcoin dropped for five successive weekdays was September and, before that, July.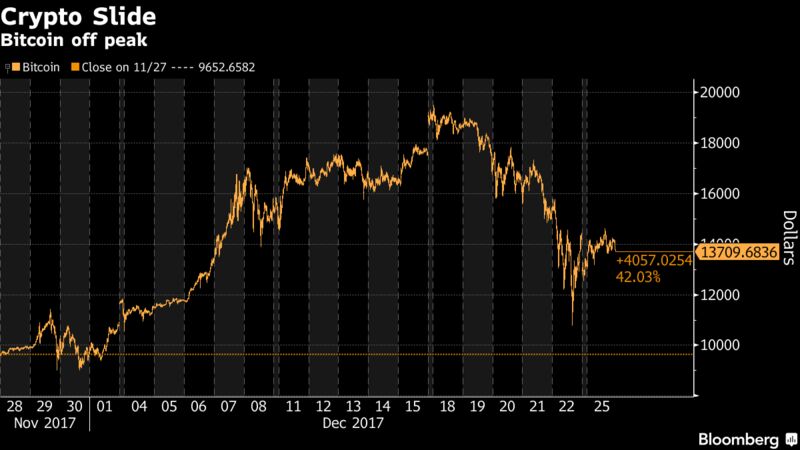 The tumble coincided with several warnings in the past week from financial authorities about elevated risk in holding digital coins.
"The crypto market went to astronomical highs, so it's got to come back to reality," Greenspan said. "Something that goes up 150 percent in less than a month is probably going to have double-digit retracement."
For a look at plans for ether, the 'other' cryptocurrency, listen here.
Bitcoin fell 3.8 percent from Friday's close to $13,703 at 4:08 p.m. Monday in New York, when most U.S. markets were closed for Christmas. That's 30 percent off its record high of $19,511, based on prices compiled by Bloomberg.
Ethereum, the No. 2 cryptocurrency by market value, gained Monday to $717. That's up about 5 percent from Friday's close.
While "nascent blockchain-based cryptocurrencies are rapidly entering mainstream finance," some of the second-generation digital coins such as Ethereum have a better outlook than bitcoin, Bloomberg Intelligence analyst Mike McGlone wrote in comments published Sunday. The whole group is akin to internet-based companies a few decades ago and exchange-traded funds more recently, he said.
"Bitcoin is the crypto benchmark, but not the best representation of the technology," McGlone wrote. Altcoins "should continue to gain on bitcoin, which has flaws and where futures can be shorted," he said.
Bitcoin's record high was reached on Dec. 18 hours after CME Group Inc. debuted futures contracts, which some traders said would encourage short position-taking.
Track bitcoin pricing: XBT <crncy>
Cryptocurrency monitor: VCCY