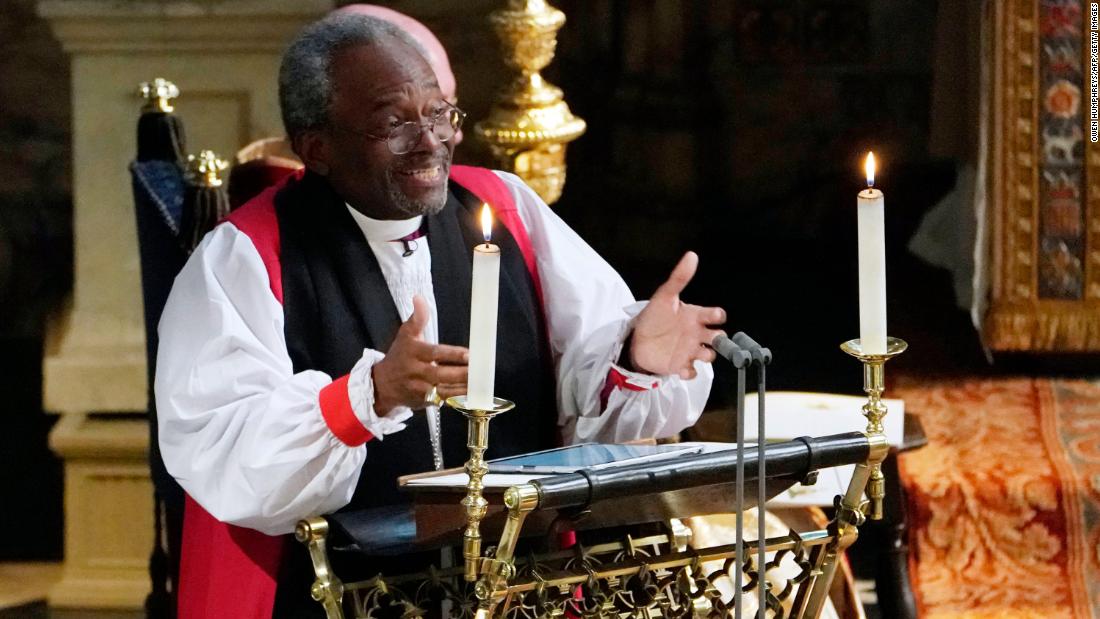 London (CNN) In a stirring royal wedding address, the African-American leader of the Episcopal Church quoted Martin Luther King Jr. and spoke passionately about the power of love.
Curry delivered the
address
shortly before Prince Harry and Meghan Markle — now the Duke and Duchess of Sussex — said their vows. He is America's first African-American leader of the Episcopal Church and an avid campaigner for social justice and racial equality.
Curry used King's quote as inspiration for his address, which he used to convey a celebratory message about love. "There's power in love to lift up and liberate when nothing else will, " he said. "There's power in love to show us the way to live. "
"Dr. King was right, " he said. "We must discover the power of love, the redemptive power of love. And when we discover that, we will be able to make of this old world a new world. Love is the only way. "
Address 'blew the place open'
Delivered with Harry and Meghan — and the rest of the royal family — looking on, the impassioned speech was one of several standout moments from the ceremony, breaking with the usual somber atmosphere and traditional music and language used in previous royal weddings.
Speaking to the media later Saturday, Curry said that he was making eye contact with the bride and groom throughout the address — and the couple was responding. "Their eyes and their smiles and their reactions were talking back, " he said.
Curry added that the love between Harry and Meghan was palpable. "These people are in love, for real, " he said. "You can visually see a relationship and it was contagious in the room. You could actually feel it in the church. People were happy — they were happy and joyful and thankful. You know what, we need some joy in the world, we really do. "
Archbishop of Canterbury Justin Welby, who led the couple in their vows, echoed his words and described the ceremony as "tear-jerking" and "really beautiful. "
And he had high praise for Curry's powerful address. It "just blew the place open, " he said. "It was fantastic. You could see people caught up in it and excited by it. "
'The day Bishop Curry took the world to church'
Shots of the guests revealed looks of surprise and amazement — not least when Curry addressed them directly, asking "Anybody get here in a car today? "
The reaction was even more marked among social media users.
"Bishop Curry is the liveliest priest to ever hit St George's Chapel and the Brits are legit looking frightened, " wrote writer Gloria Fallon.
"Today will be remembered as the day Bishop Curry took the world to church, " wrote Tarynn L. Bradham.
Twitter user Wakandan Milk Maiden said, "They not ready for Bishop Michael Curry!! Preach Brother!!! " and posted a GIF of a black woman dancing.
King's daughter Bernice expressed her delight at the use of the activist's words in a tweet. "#MLK quote at the #RoyalWedding, " she wrote. "Your life, teachings and words still matter so much, Daddy. Congrats, Harry and Meghan!
UK Labour politician David Lammy wrote, "Love, Justice, Poverty, MLK, Fire and Slavery in one sermon from Bishop Curry. Amen brothers and sisters, Amen. "
Rev. Curry rose to fame in 2012 when his sermon "We need some crazy Christians, " went viral and was turned into a book.