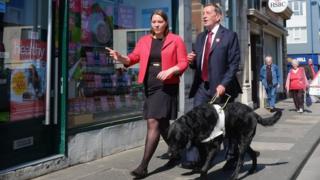 Ex-home secretary David Blunkett has spoken of being heartbroken by the sudden death of his guide dog Cosby.
The Labrador-cross was put down on Friday after vets discovered an inoperable liver tumour.
Seven-year-old Cosby was Lord Blunkett's sixth guide dog since 1969.
The former Sheffield MP, who lives in the Derbyshire Peak District, described taking the decision to put the "big, lovable and endearing" dog to sleep as "heartbreaking".
'Thank you, not so old friend'
"Such a moment would be upsetting for any dog-owner, but even for a hard-bitten ex-home secretary, this was a deeply harrowing decision, made more traumatic by the speed at which events unfolded," he said.
"The previous Sunday, in Sheffield, had seen him chasing a ball and being his usual exuberant self."
The following day, Cosby also guided the Labour peer round Westminster "without a grumble".
It was only when the dog stopped eating that Lord Blunkett realised something was wrong.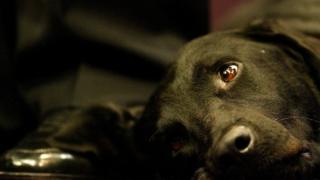 "Above all, I shall remember [Cosby's] incredible bravery in those last few days, including walking unaided into the veterinary hospital," he said.
"And, even at the last, giving us a wag of his tail as he sniffed one of his favourite tennis balls, which smelt of the woods where he spent many happy hours.
"So thank you, not so old friend. I shall miss you, and so will many others."
Cosby became Lord Blunkett's guide dog in 2011, following Ruby, Teddy, Offa, Lucy and Sadie.
In 2009, Lord Blunkett was injured while protecting Sadie from a charging cow.
He suffered a broken rib and bruising.