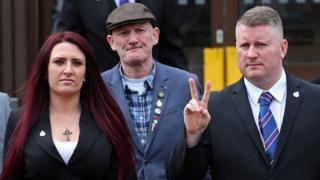 The leader and deputy leader associated with far-right group Britain First are actually found guilty of religiously aggravated nuisance.
Paul Golding, thirty six, and Jayda Fransen, 32, had been arrested over the distribution of booklets and posting of online videos throughout a gang-rape trial.
Fransen was convicted of three matters of religiously aggravated harassment. Golding was found guilty of one cost.
Both were jailed at Folkestone Magistrates' Court.
Fransen was handed the 36-week sentence and Golding eighteen weeks.
During their demo in January, the court noticed they had targeted homes and people within Kent whom they believed had been connected to a rape trial in Canterbury Crown Court where 3 Muslim men and a teenager were found guilty of rape and jailed.
The pair, both through Penge in south-east London, had been arrested in May last year.
'Hostility' towards Muslims
They denied an overall total of seven counts of nuisance.
Judge Justin Barron threw out three of the fees, while Fransen was found doing three and Golding of one.
He told the courtroom the pair were "well-known", "controversial" and "generate their own publicity", yet his verdict was based "solely on admissible evidence heard within court".
He stated their words and actions "demonstrated hostility" towards Muslims and the Muslim faith.
"I have zero doubt it was their joint purpose to use the facts of the case [in Canterbury] for their own politics ends.
"It was obviously a campaign to draw attention to the particular race, religion and immigrant history of the defendants. "
Both Fransen and Golding had been convicted on a joint charge associated with religiously aggravated harassment after a good incident last May at 5iphon scam Pizza takeaway in Ramsgate, whenever Fransen banged on the windows and doors from the shop and screamed "paedophile" plus "foreigner".
However , within each case, they instead focused innocent members of the public.
They filmed the abuse and released it on social media plus through the Britain First website.
They also posted unpleasant leaflets through the letterboxes of homes in the area where the defendants lived.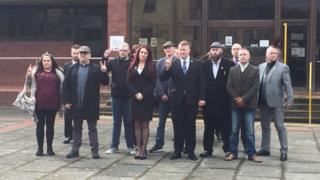 Giving evidence, Fransen had refused being a racist and said the girl had carried out campaigns against individuals accused of sex offences, whilst Mr Golding told the courtroom he had often acted as the girl cameraman.
Fransen has been convicted of abuse after going to a house she wrongly believed to be the present address of Sershah Muslimyar, the defendant in the trial.
She was also convicted of visiting the particular Kent home of another accused , Tamin Rahmani, and yelling racist abuse through the front door whilst his pregnant partner Kelli Greatest was there.
Throughout sentencing Fransen spoke over the assess, saying: "This is a very sad day time for British justice. Everything Used to do was for the children of this nation and they are worth it. "
As Britain First supporters still left the courtroom they hurled misuse at court staff and associates of the press, shouting "no surrender".