Rose, who has long hosted an interview show on PBS and also co-anchors "CBS This Morning," is accused of making sexual advances toward multiple women — some of whom worked on his show. He is also accused of groping women and walking in front of them while naked.
A PBS spokesperson said the network is immediately suspending distribution of the program, which is produced by an independent company, in response to the allegations.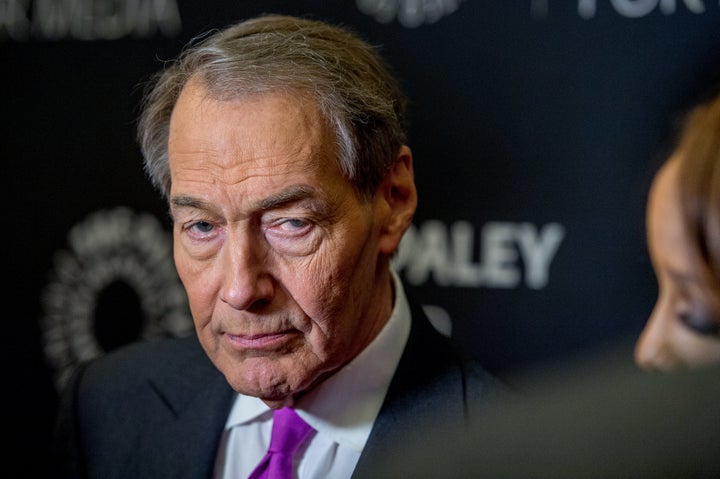 "PBS was shocked to learn today of these deeply disturbing allegations," the spokesperson said. "PBS does not fund this nightly program or supervise its production, but we expect our producers to provide a workplace where people feel safe and are treated with dignity and respect."
Bloomberg TV, which broadcasts "Charlie Rose" as well, also said it is suspending the show.
CBS also suspended Rose after learning of the allegations.
"Charlie Rose is suspended immediately while we look into this matter," the network said in a statement. "These allegations are extremely disturbing and we take them very seriously."
"He was a sexual predator, and I was his victim," said Reah Bravo, one of the women who spoke to the Post. Bravo worked for Rose's interview show starting in 2007 and says he made multiple advances when the two were alone together.
Several women described Rose putting his hands on their legs. Another said he repeatedly made lewd early morning or late-night phone calls to her. One woman said Rose groped her breasts while they were driving in a car together. Rose reportedly also gave women shoulder rubs without their permission, an action one source told the Post was known among staffers as "the crusty paw."
The incidents date from the late 1990s to 2011, and the women ranged in age from 21 to 37 at the time of the incidents they describe.
Two women told the Post they reported Rose's inappropriate actions to Yvette Vega, a longtime producer on his show. Vega told the Post she "failed" to help those women.
"I should have stood up for them," she said.
"It is essential that these women know I hear them and that I deeply apologize for my inappropriate behavior. I am greatly embarrassed," Rose said in a statement in response to the Post's reporting. "I have behaved insensitively at times, and I accept responsibility for that, though I do not believe that all of these allegations are accurate. I always felt that I was pursuing shared feelings, even though I now realize I was mistaken."
Rose, 75, has hosted his PBS show since 1993, and has co-anchored the CBS morning program since 2012.
He joins a growing list of men in positions of power who have been accused of sexual harassment and assault in recent weeks, beginning with Hollywood producer Harvey Weinstein in October. Earlier Monday, New York Times star reporter Glenn Thrush was suspended from the newspaper after a Vox report detailed several instances of him behaving inappropriately with female journalists.
This post has been updated with more information about the allegations and responses from PBS, Bloomberg TV and CBS.