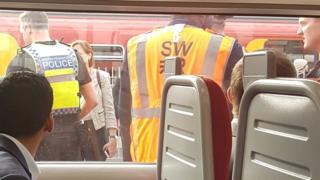 Passengers forced open opportunities on a busy rush-hour train plus climbed on to tracks after getting "panicked" in the carriage.
It happened outside Wimbledon place in south-west London at '08: 30 BST as a man evidently began reading lines aloud through the Bible.
Commuters grew to become scared when the man also started saying "death is not the end", a passenger said.
Rail power lines were reduce as passengers "self-evacuated", police stated.
Trains on the route had been disrupted for nearly 12 hours, yet are now running normally.
Ian, who was on the teach, said the man's Bible-reading resulted in a "commotion" and a "crush".
He said someone after that asked the man to stop speaking "as he was scaring people" plus "the guy stopped and was there with his head down".
The train had been traveling between Shepperton and London Waterloo. British Transport Police (BTP) mentioned no arrests had been made.
A Network Rail spokesperson said no passengers or teach staff were injured but "significant delays" would continue on services out and in of Waterloo.