They start arriving even before the security shutters at the west Caracas storefront roll up at about 8:30 a.m. For 11 hours a day, they'll hunch over old-fashioned cathode-ray tube monitors and bang on greasy keyboards in a dim space with a boarded-up window and a blanket of dust. They pause just long enough to smoke cigarettes in the stairwell. And if someone lingers too long, another eager person claims their seat and starts hunting make-believe monsters.
Crisis-wracked Venezuela has become fertile ground for what's known as gold farming. People spend hours a day playing dated online games such as and to acquire virtual gold, game points or special characters that they can sell to other players for real money or crypto-currencies such as bitcoin. The practice, which has previously cropped up in other basket-case economies such as North Korea's, has become so popular with Venezuelans that they're now spreading inflation inside the virtual worlds. 
"We've never made this much before," says Efrain Peña, 29, who plays seven days a week at the Mona Pizza cybercafe to support his wife and child. Most Venezuelan gold farmers make the equivalent of a couple of dollars a day, but in many ways they're better off than salaried workers, because their earnings are indexed to Venezuela's black-market dollar exchange rate.  "What job can match what we're making now?" says the onetime graphic designer.
Inflation has spiraled into quadruple digits. The bolívar has shed almost all of its value against the dollar this year and was trading at 108,279 on the black market on Dec. 4. "It's shameful. I never thought game currency would be worth more than that of our country," says Enegebe Sención, 30, an out-of-work computer programmer who for the past five months has played to support his family.
The socialist regime in Caracas has maintained strict currency controls for more than a decade, and the threat of a bust or a ban has made many gold farmers reluctant to share too many details about the mechanics of the business. Online enterprises with such names as PapusGold, SoliderGold, and Tibia Venezuela Coins have sprung up, paying farmers in bolivares for their virtual gold via bank transfers. The online marketplace Mercadolibre is flooded with listings of virtual treasures.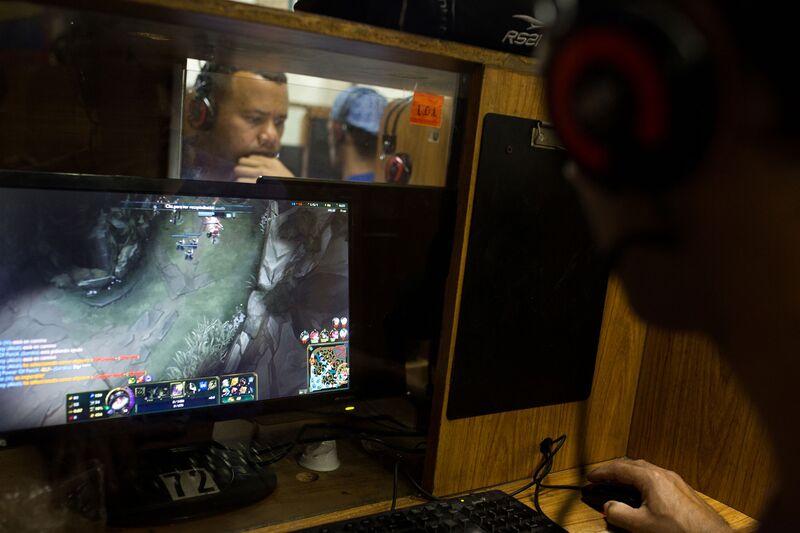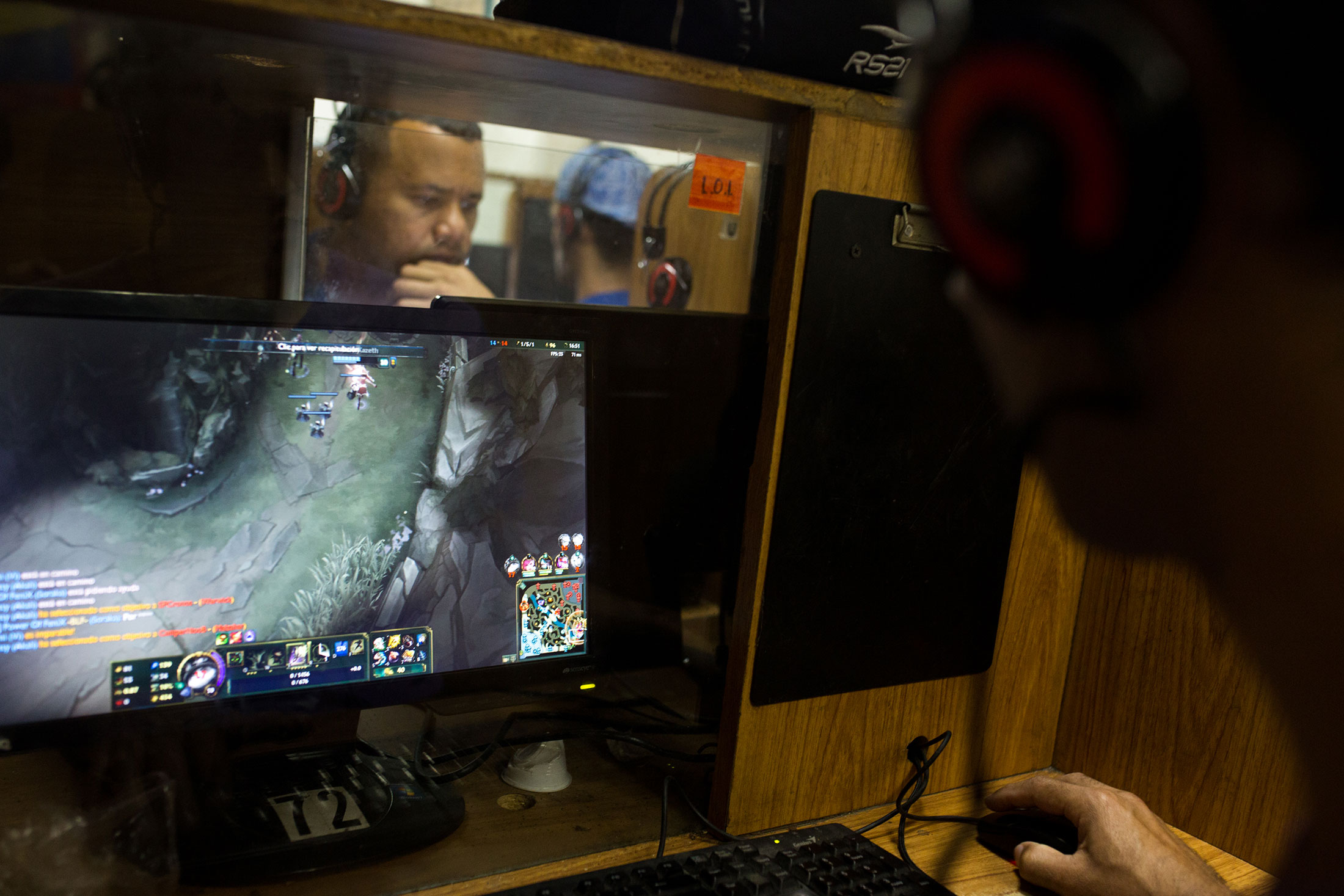 Hamstrung by shaky internet connections and outdated hardware, Venezuela's gold farmers have gravitated to old-school games that have low system requirements and established communities of players. Willian Natera, 23, took to questing full-time in his favorite childhood title, , seven months ago. Before that he'd been struggling to make ends meet as a bricklayer in a government housing program. "It was the work of a donkey, and it barely paid for breakfast," says Natera, recalling how he had to haul sacks of cement up slum stairwells. Now he spends his days leading a band of heroes through a medieval world, smiting poorly rendered monsters. 
Newer game titles often sell virtual currency directly to players, but millions remain hooked on classics where virtual gold must be earned. "Old games don't die. We just stop paying attention to them," says Edward Castronova, a professor at Indiana University who has researched the economics of massively multiplayer online games. "There is always going to be plenty of space for gold farmers.''
Released in 1997, still has more than 500,000 players, according to its website. , dating back to 1999, boasts some 1.6 million active monthly players, according to SuperData Research. 
José Luis Fragoza, 22, tried gold farming for a few months this year after leaving active military service, but quit playing for money when his internet service bogged down. He says it was menial labor, but it kept food on the table. "Hunt, kill, click, repeat," he says as his paladin hacks and slashes minotaurs, just playing for fun. "But if you'd give me a 10-megabyte connection or a job, I'll stay home with the internet."  
Venezuela's internet connection speeds are among the slowest in the world—the country scored worse than war-torn Syria in a 2017 ranking of 159 countries. So many gold farmers work night shifts to avoid heavy traffic. Peña's wife, Ruth Villegas, 37, who was whiling away some time at Mona Pizza with their 6-year-old daughter, says she used to regard her husband's nocturnal gaming as a nuisance because it kept her up at night. "We'd get into ugly fights, and he would tell me: 'I'll leave you before I give up ,'" she recalls. "But I can't argue with what he's making."
There are often times when the means of production disappears altogether. A rash of copper-wire thefts in Caracas took down the internet in some neighborhoods and prevented Samuel Navas, a 28-year-old sometime-insurance salesman, from logging onto for the past two months. That cost him almost two-thirds of his income and turned his wife into family's breadwinner.  "As man of the house I should be paying the bills," he says, "but suddenly everything goes beyond your control."
The gold farmers are scorned by many first-world players and the developers of the games, who say the practice is unsporting and distorts the value of digital currencies. Publishers of the games also say it breaks their terms of service and encourages illegal activities such as account hijacking and credit card fraud. Joe Wilcox, a senior project manager at Jagex in Cambridge, England,  the developer of , said the company bans about 10,000 accounts a day. "If we were to allow gold farming it would destroy the game,'' he said in an email. 
Romer Manuel Peña's team of gold farmers has been banned several times from , forcing them to start over and spend weeks nurturing new characters before generating income. The 27-year-old, who used to work as an oil engineer in Venezuela's central plains, contends his team members are simply trying to get by, and Jagex should support them. "Shouldn't they be proud that entire families are being fed by their game?'' he says.
But anger at the influx of farmers in games such as  is such that one user of the Reddit online forum posted a guide to "Killing Venezuelans" (since removed) that offered tips on eliminating their characters.
Venezuelan gold farmers' biggest enemy may prove not to be xenophobic gamers, but themselves. That's because as more players flock to the online worlds to make a living, they ultimately drive down the price of digital gold. "They're printing money,'' says Vili Lehdonvirta, an economic sociologist at Oxford University who studies digital marketplaces. "Essentially what results is hyperinflation, as there is lots more currency coming into the system.''