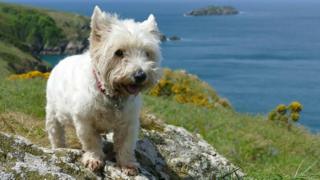 Rescuers have abandoned their efforts in order to save a dog who fell down the hole on a mountain in Blaenau Gwent.
Tilly the particular West Highland Terrier is trapped on a ledge 23ft (7m) under Mynydd James near Blaina.
Despite attempts to cajole her from the position she is within, and offering her food, she gets not moved and it is not known when Tilly is still alive.
South and Mid Wales Give Rescue Team said the decision had been made to halt the rescue upon Tuesday evening.
Leader Gary Mitchell said: "With strong rock either side, the risk of wanting to widen the hole would lead to significant amounts of debris falling down on the girl.
"This is one of the few incidents in our 70 years of lifestyle that the outcome is not what we could have hoped for. "
Group member Jen Hill, who was reduced into the gap, said: "It was obviously a very difficult decision to ask to become hauled back up.
"As a dog owner myself I wanted to be able to conserve her but unfortunately this time it had been not the case. "
Combined with the cave rescue team, specialist medical personnel from four different stations had been involved, using a camera and a achieve pole to help the rescue work.