A Donald Trump plus Paul Pence " every week newsletter" laments the horror from the Parkland school shooting that killed seventeen people , then ends having a " contribute" button so individuals can give money… to Trump plus Pence.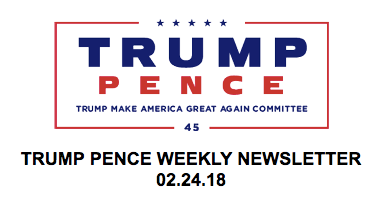 The very first Trump tout in the newsletter, headlined " President Trump — 7 days 57: Safer Schools, " said that the president and very first lady Melania Trump " went to with victims and first responders following the shooting and met amazing people they will never forget. " The piece is accompanied by a photograph of Trump and the first female at the hospital bedside of a Parkland shooting survivor wrapped in bandages.
The message adds: " The particular President is now engaging in an important nationwide conversation about school safety plus ways to prevent any future assaults. President Trump is taking actions towards banning gun bump shares and building up background checks for weapon purchasers. The President has made their intent very clear: ' making the schools and our children safer is going to be our top priority. ' "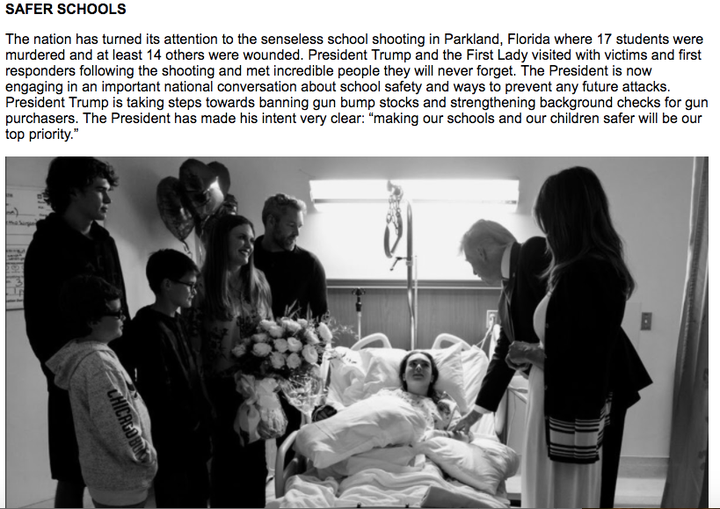 Other stories note Trump providing medals of valor to police force officers, his infrastructure plan plus a " confidence boom" among smaller businesses.
The newsletter ends using a red " CONTRIBUTE" link in addition to a link to " VISIT OUR SHOP. "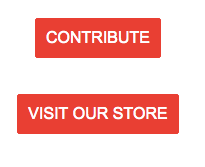 Despite Trump' s proposed plan to strengthen background record checks for gun purchases, he or she and Congress rolled back tougher checks on people with mental ailments who purchase guns a year ago. The particular Obama-era regulation would have barred weapons to people receiving Social Security bank checks for mental illnesses.
The thought shooter at Marjory Stoneman Douglas High School, Nikolas Cruz, was apparently treated for mental illness.
Survivors aren' t likely to view the aftermath of their tragedy as some thing to tout in a fundraising e-newsletter. Students and parents of the college have slammed Trump, other political figures and the National Rifle Association designed for lack of action on stricter weapon control to avert future tragedies.
Parkland mom Lori Alhadeff, screamed at Trump on a CNN video clip to " take a step " the day the girl 14-year-old daughter, Alyssa, was slain. " You can stop the weapons from getting into these children' t hands, " she cried.