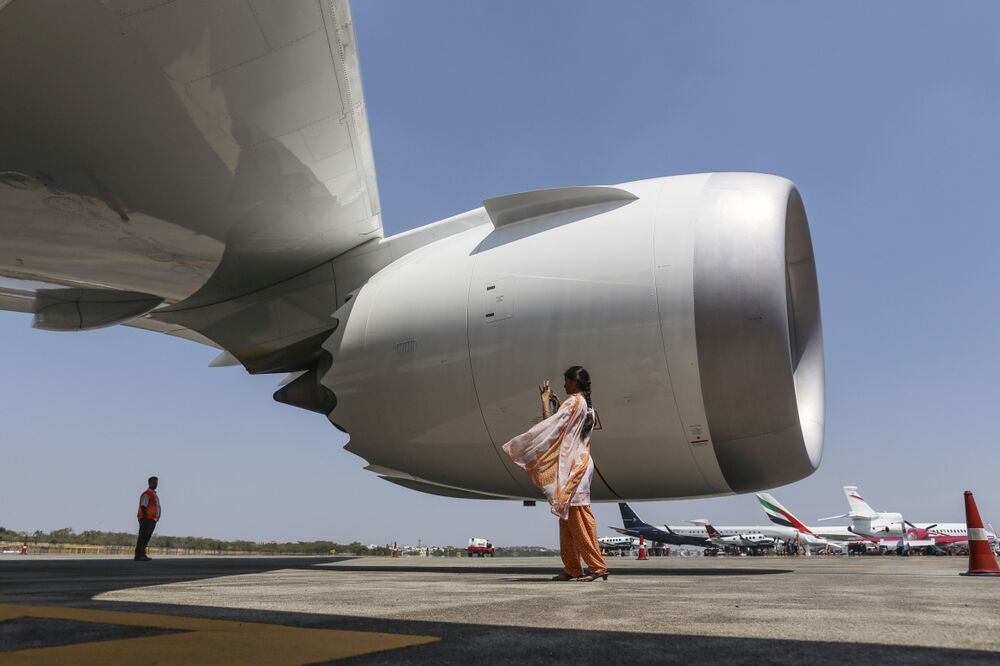 FAA likely to impose limits on long-distance flights

Europe is requiring stepped-up inspections of Trent 1000s
About a quarter of Boeing Co. 787 Dreamliners operating face restrictions on long-range flights as regulators respond to mushrooming issues with a Rolls-Royce Holdings Plc engine.
The U. S. Federal Aviation Administration is expected early in a few days to curb the travel time that Dreamliners powered by a Trent 1000 variant are allowed to be away from the nearest airport, said a person briefed on the matter. The European Aviation Safety Agency on Friday required the same as monthly inspections for the turbine, which debuted four years ago with Boeing' s 787-9.
The regulators are responding to revelations on Friday from Rolls-Royce that 380 engines needed additional inspections to address durability conditions that are worse than originally thought. Questions about the Trent' s intermediate pressure compressor blades surfaced with All Nippon Airways in 2016 and intensified in December when Air New Zealand Dreamliners suffered turbine damage during flights on successive days.
" No U. S. airline operates Boeing 787s that are equipped with the affected engines, " the FAA said in an emailed statement. " The FAA is working closely with EASA and will take appropriate action. "
Business Disruptions
Boeing said Friday that it' s dispatching teams to help airlines " mitigate service disruption. " Otherwise, it' s business as usual for the Chicago-based planemaker since the 787s rolling out of its factories now are powered either by a General Electric Co. turbine or the updated Trent 1000 TEN, a new variant redesigned for greater durability.
Nevertheless, the stepped up scrutiny of the affected engines, the Trent 1000 Package C, is certain to cause headaches for some Dreamliner operators. Rolls-Royce' s struggles to resolve the durability issues also raises questions about the reliability of the Trent engine models used for Airbus SE wide-body jets, said aerospace analyst Richard Aboulafia.
" They' ve got issues here both financially and reputationally, " Aboulafia said of the enginemaker.
Flying Distance
Rolls-Royce shares fell 1. 6 percent 866. 80 pence at the close in London. The company' s 750 million euros ($925 million) of bonds maturing in 2021 fell to around 106 euro cents, the lowest since March 2016, according to data compiled by Bloomberg. Boeing declined 2. 4 percent to $329. 28 in New York.
U. S. regulators are expected to reduce the so-called ETOPS range of afflicted planes to about 140 minutes from the nearest airport, down from 330 minutes, according to the person, who asked not to be named because they weren' t authorized to speak publicly. The new restrictions, typically needed for long flights over oceans, are meant to keep the twin-engine aircraft within safe flying distance of a landing spot should one turbine fail.
Hardest hit will be airlines flying Boeing' s carbon-fiber airliners on trans-Pacific routes, said aviation consultant Robert Mann. Flights that typically take polar routes will need to hug the coast of Alaska, adding time and cost, he said. Trans-Atlantic service shouldn' t be affected.
Even more disruptive is the European regulator' s airworthiness directive requiring that the inspection interval for 787s equipped with the engines be cut to every 80 trips from 200 now. Mechanics will perform a visual inspection with a fiber-optic tool called a boroscope, searching for signs of cracking or unusual wear on the blades, seals, combustion chamber and other components.
' Invasive Inspection'
" It' s an invasive inspection, " Mann said. " It has to be done by someone who' s skilled. It' s time intensive. You have to look at hundreds of blades, potentially. "
Such frequent reviews shouldn' t be necessary for engines so relatively new, he said. There' s an additional risk that the inspections will turn up unrelated issues that delay a plane from returning to service. " What you find dictates what you do, " said Mann, an aerospace engineer and former airline executive. " The unexpected findings are equally problematic. "
The developments come as a blow for Rolls-Royce barely a month after it indicated the engine issues seemed to have been resolved. The London-based company also faces a further cash drain from the extra work and potential compensation payments to carriers. Among airlines that could face disruption are British Airways and Virgin Atlantic Airways Ltd.
Even before today' s revelations, Rolls-Royce had said a redesign of problem parts for the 787 turbine wouldn' t be fully incorporated into the fleet until 2022. The snag has led to unscheduled shop visits for dozens of Dreamliners, costing Rolls-Royce more than 220 million pounds in charges last year.
Some 200 engines are due for maintenance in coming weeks, according to Rolls-Royce Chief Executive Officer Warren East. However, there' s been no discussion about pausing deliveries of the 787 engine to Boeing, he said.
Nine engines in Air New Zealand' s fleet were affected, according to an April 14 statement from the airline.