U.S. tech billionaire Elon Musk has made high-performance electric vehicles, created rockets that can land on ships and planned life on Mars — chronicling it all on social media. But his personal record for Instagram "likes" comes from a post this week about Turkey.
The chief executive officer of companies including Tesla Inc. and SpaceX visited the country to discuss the launch of rockets by Turkey's national satellite firm. On Wednesday, he met President Recep Tayyip Erdogan at his presidential palace in the capital city of Ankara. They talked about a wide variety of issues and exchanged presents. That could have been the end of it.
Then, as the sun set over Ankara, Musk posted a photo to Instagram. Arms crossed, wearing a suit and no tie, he stood in partial light at the mausoleum of Turkey's founding father, Mustafa Kemal Ataturk. "Atatürk Anıtkabir," he wrote, deploying the proper Turkish characters. 
The photo had gotten more than 930,000 "likes" as of Friday, hundreds of thousands more than any previous post by Musk, who has 3.5 million followers.
To many Turks, Ataturk represents values Erdogan has been bent on disrupting, namely: secular, European and progressive. Erdogan has pushed to replace the European orientation of Ataturk's republic with, in his words, "a more pious generation" — one assertive about its Islamic identity and its independence from Western influence.
Read more about Erdogan's grip on Turkey: QuickTake
Since a coup attempt last year, Erdogan has embarked on a purge of the bureaucracy, imposed a state of emergency and passed a constitutional referendum eliminating the prime minister's job and empowering the president. More than 100,000 academics, officials, police officers and judges were fired and tens of thousands jailed in the year that followed. Also among them are dozens of prominent journalists, opposition politicians and scientists, including a Turkish-American NASA physicist who was working on a manned mission to Mars.
The clampdown has led to tensions with the European Union and the U.S. and made Turkey one of the world's leaders in censorship. It accounts for about 95 percent of the world's requests to censor information on Twitter. One of the first companies Musk co-founded, PayPal Holdings Inc., is banned, as are hundreds of other websites, including Wikipedia.
Rocket Talk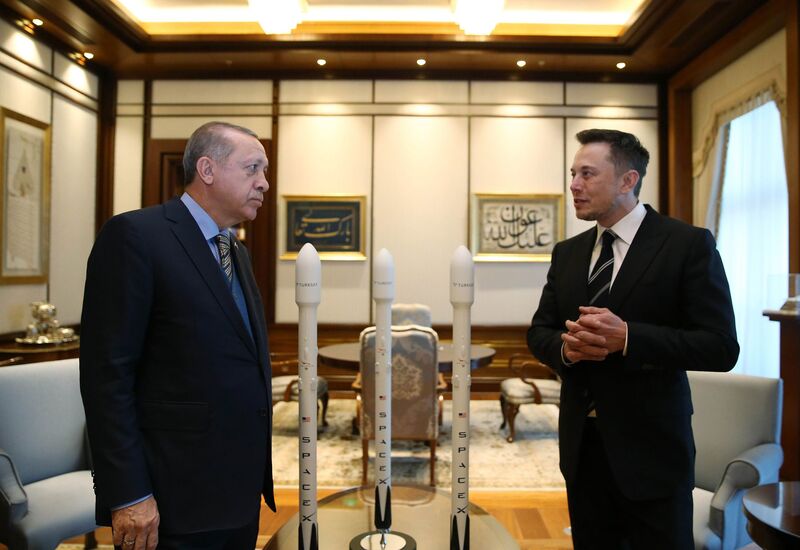 So Musk's social-media Ataturk frenzy interrupted what appeared to be a rare international public-relations triumph for Erdogan. He and Musk had discussed issues including rockets, renewable energy, Turkey's drive to build its own "national car," technologies to alleviate traffic and dig tunnels, and possible cooperation between Turkish companies and Musk's, according to Erdogan's spokesman, Ibrahim Kalin. 
Musk presented Erdogan with three replicas of SpaceX rockets, and Erdogan gave Musk a framed copy of his book: "The Vision of New Turkey – The World is Bigger Than Five." It was a reference to the five permanent members of the UN Security Council. And the two men posed for pictures together.
"Elon Musk is someone who got up from Trump's table and is sitting down at @RT_Erdogan's!" tweeted Bulent Gedikli, an informal adviser to Erdogan, referring to Musk's decision to drop out of President Donald Trump's business councils. "AN ERA IN WHICH VISIONARIES COME TOGETHER HAS BEGUN!"
Erdogan's press office didn't respond to requests for comment on Thursday. The projects Musk and Erdogan discussed could benefit Turkey, according to a person familiar with the matter, who asked not to be named as the meeting was private. Musk has thought highly of Ataturk since high school and was surprised by the level of attention his social media posts on the trip garnered, the person said.
Attack Reaction
"The attention Mr. Musk's remarks praising Ataturk is getting from Turks is a reaction to the increased attacks against the republic's founder," said Gonul Tol, the director of the Center for Turkish Studies at the Middle East Institute in Washington. "There has always been a fault line between defenders of Ataturk-style secularism and Islam."
While secularists see Ataturk's legacy as under attack in the Erdogan era — manifested most recently by vandalism of his statues in Turkey — Erdogan's ruling party may be changing course and seeking to reestablish a connection to the founder's admirers, she said.
In a speech marking the 79th anniversary of Ataturk's death on Friday, Erdogan praised him as a national independence hero, while criticizing other interpretations of his legacy. 
"There's a big difference between Ataturk and Ataturkism," he said.
After leaving Turkey, Musk doubled down on his message, quoting Ataturk to his 14.5 million followers on Twitter: "If one day, my words are against science, choose science," it said.
Not everyone seemed interested in Musk's fixation with Ataturk.
"Hey what about my Tesla??" singer Madonna wrote beneath the photo on Musk's Instagram post. The question got more than 2,500 "likes."