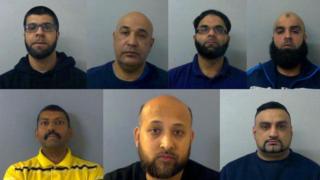 7 men have been found guilty of tidying and sexually abusing teenage young ladies "on a massive scale" in Oxford.
The gang has been convicted of more than 20 offences which includes rape and indecent assault in between 1998 and 2005.
Prosecutor Oliver Saxby QC stated they carried out the "routine, negative and predatory sexual exploitation" associated with vulnerable girls who were groomed along with alcohol and drugs.
The five victims were old between 13 and 15 once the offences started.
Starting the case at Oxford Crown Courtroom, Mr Saxby said the team preyed on girls who a new background of problems at home.
'Almost unimaginable cruelty'
He said these people offered their victims "company, interest, acceptance into the group" as well as "food, parties, alcohol, and sometimes drugs".
Mr Saxby stated this was all part of "the tidying process" the gang used in purchase to carry out "sexual exploitation on a huge scale".
He stated the girls would be made to have sex with parties, in cars or recreational areas, with other men around, and occasionally after being subjected to threats plus violence.
One lady was taken to a B& W in Iffley Road and informed to have sex with older men, who seem to one of the defendants described as "uncles", this individual said.
Mr Saxby added: "She says she has dropped count of the number of 'uncles' the lady had sex with… After sexual intercourse she would sit in the shower plus scrub herself. "

Verdicts
Assad Hussain, thirty seven, of Iffley Road, Oxford, doing five counts of rape plus two counts of indecent strike, not guilty of one count of indecent assault.
Kameer Iqbal, 39, associated with Dashwood Road, Oxford, guilty of 3 counts of rape.
Khalid Hussain, 38, of Ashhurst Way, Oxford, guilty of rape and indecent strike, not guilty of one count of rape.
Kamran Khan, 36, of Northfield Road, Bolton, guilty of indecent strike and false imprisonment, not guilty associated with rape.
Moinul Islam, 41, associated with Wykeham Crescent, Oxford, guilty of rape, two counts of indecent attack and supplying cannabis, not guilty associated with false imprisonment.
Raheem Ahmed, forty of Starwort Path, Oxford, doing two counts of indecent strike and false imprisonment, not guilty associated with rape.
Alladitta Yousaf, 48, associated with Bodley Road, Oxford, guilty of indecent assault.

De Ch Insp Mark Glover mentioned the convictions were only feasible because of the "incredible bravery" of the gang's victims.
He stated: "This group of men subjected these to an almost unimaginable level of cruelty plus sexual abuse over a significant time period.
"To have come by means of that trauma, and to have been capable of help and support us all through our investigation is a testament to the effectiveness of their characters. "
Saboor Abdul, 37, of Oxford Road, Cowley, was found simple of rape, and Haji Khan, 37, of Littlegreen Lane, Luton, was found not guilty of indecent assault and conspiracy to rape.
Reporting restrictions formerly prevented the case being reported, plus two other men involved in the demo cannot be named for legal factors.
The men is going to be sentenced in June.