General Electric Co. plans to cut 12,000 jobs in its power business as the company's new leaders look to slash costs and stabilize the beleaguered manufacturer.
The reductions, accounting for about 18 percent of GE Power's workforce, include both professional and production employees, the company said Thursday in a statement. The world's largest maker of gas turbines said the unit needs to become leaner as customers turn away from fossil fuel-based energy sources.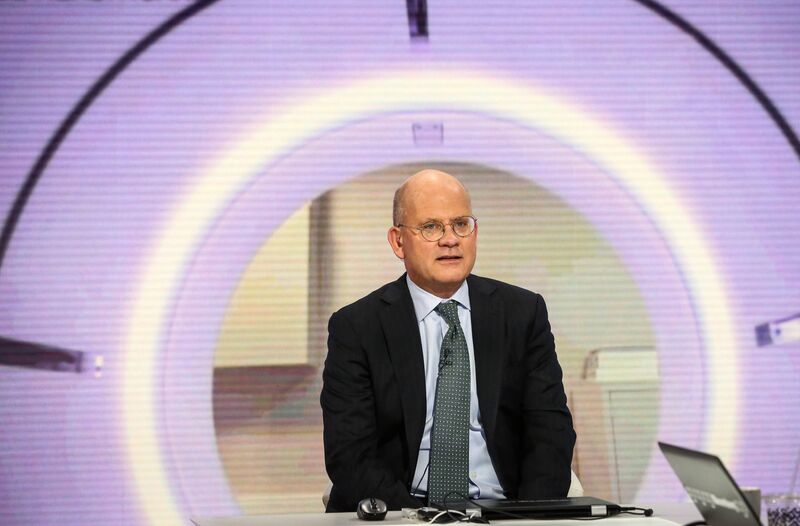 The move adds to a flurry of cost cuts by Chief Executive Officer John Flannery, who has already scaled back use of corporate jets and delayed work on a new Boston headquarters since taking the reins in August. GE said last month it would pare the quarterly dividend and sell some businesses. It's also reassessing spending in areas such as research and development.
"It's a start," said Nicholas Heymann, an analyst with William Blair & Co., adding that GE still needs to make operational changes in addition to job cuts. "It's one thing to put the tourniquet on, and it's another to redirect and create the path forward."
Read more: GE adds to blows for European power workers
The shares climbed 1.4 percent to $17.92 at 10:25 a.m. in New York after falling a day earlier to the lowest in almost six years. GE plunged 44 percent this year through Wednesday — easily the worst in the Dow Jones Industrial Average, which has climbed 22 percent.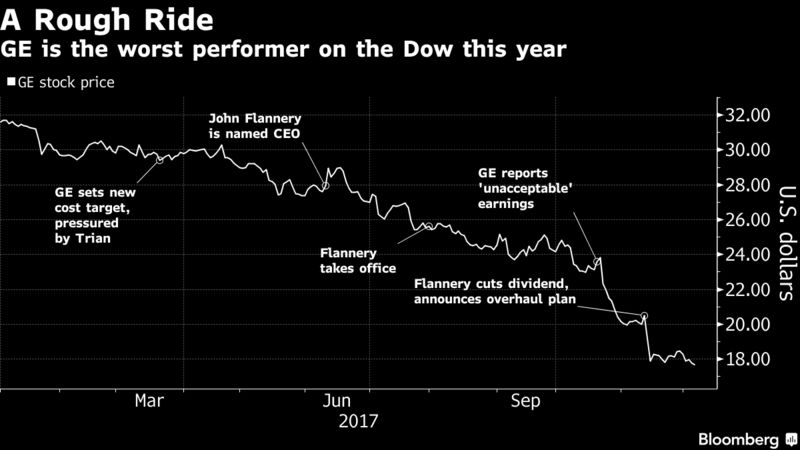 Trimming the workforce will help GE achieve its goal of slicing $1 billion of structural costs next year in the power unit. That plan is part of a larger effort to cut $3.5 billion of expenses across the company through 2018.
"This decision was painful but necessary for GE Power to respond to the disruption in the power market," division chief Russell Stokes said in the statement. "Power will remain a work in progress in 2018. We expect market challenges to continue, but this plan will position us for 2019 and beyond."
Demand is flagging for GE's power-generation equipment because of overcapacity, lower utilization, fewer outages and the growth in renewable energy, said Stifel Financial Corp. analyst Robert McCarthy.
"Given the challenges within the global power market, today's announcement represents an obvious next step in reducing headcount and footprint in order to improve margins and cash flow within the struggling business," McCarthy said in a note to clients. "Traditional power markets including gas and coal have softened and volumes are down significantly."
Biggest Division
GE had about 300,000 total employees at the end of last year. Power was the company's biggest division, with sales last year of $26.8 billion. The total would have been $36.8 billion after accounting for the effects of a reorganization this year in which GE added some energy businesses to the unit.
While GE didn't specify where the job cuts will come, the bulk will be outside the U.S., according to a person familiar with the matter who asked not to be identified discussing the details. Positions in France won't be affected due to stipulations in an agreement when GE bought Alstom SA's energy business in 2015, the person said.
Read more: Gadfly on GE's Power Misstep
Renewable forms of energy such as wind and solar are likely to grab a bigger share of the market in the coming decades, generating more electricity than coal by 2040, the International Energy Agency said last month. Renewables will reap about two-thirds of $11.3 trillion in investment likely to flow to power plants over the period, the IEA said. 
GE has been hit hard by weakening demand for new gas-fired electricity generators as the costs of renewables slide. Competitors such as Siemens AG are contending with similar pressures. The Munich-based company last month announced a plan to eliminate about 6,900 positions worldwide and close factories, amid a sharp drop in orders for power-plant equipment.
'Poor Execution'
In addition to the industry shift, GE Power has "exacerbated the market situation with some really poor execution," Flannery told investors last month.
The power unit expanded considerably with the $10 billion Alstom acquisition, but the drawn-out deal has turned into a drag. Intended to broaden the product lineup with steam-turbine technology, the tie-up pushed GE Power's workforce to 65,000 at a time when the market was slowing.
"Alstom has clearly performed below our expectations," Flannery said last month, referring to the assets acquired from the French company.
As the size of the hurdles became clear this year, GE made changes to management in the power business and reorganized divisions. Stokes was named head of GE Power in June, taking over from Steve Bolze, who left the company shortly after Flannery was named to succeed Jeffrey Immelt as GE's next CEO.
Online message boards for GE employees were active in recent weeks as workers discussed layoff notices going out in GE Power manufacturing locations such as Greenville, South Carolina, and Schenectady, New York. GE also met with union representatives in Europe this week to discuss cutbacks there.