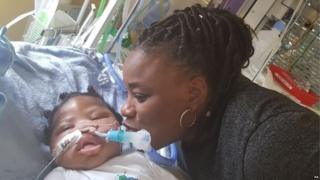 A woman fighting to stop physicians ending life support treatment on her sick 11-month-old son has informed a judge that God decide when he dies.
Specialists at King's College Medical center said giving further treatment in order to Isaiah Haastrup is "futile, troublesome and not in his best interests".
They said he is in a big way disabled, but can feel discomfort.
Isaiah's mother, Takesha Thomas, and father Lanre Haastrup, both 36, want treatment to keep.
Ms Thomas, the Pentecostal Christian, said: "For me personally, I don't think it is right to state who should live or exactly who should die. If God would like to take the person, He will. "
She told the determine: "When I speak to him he can respond, slowly, by opening a single eye.
"I see a child who is injured. He or she needs love. He needs treatment. I have it. I can can give this. "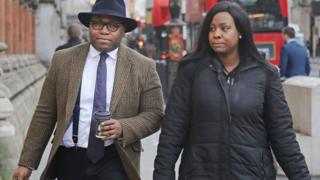 Ms Thomas told the determine that Isaiah responded to her.
"When I take your pet out for cuddles, when I sing in order to him, when I rock he believes sleepy in my arms, " this said.
'Ventilator dependent'
A skilled treating Isaiah had told that judge that in his opinion typically the boy would not improve.
He described Isaiah as "profoundly disabled", and said that he could but not breathe independently.
My judge has ruled that medics involved in Isaiah's case cannot be labelled.
Barrister Fiona Paterson, representing King's College Hospital NHS Foundation Trust, told the ascertain that overwhelming medical evidence verified that stopping treatment was in Isaiah's best interests.
The the ability to hear is expected to end on Saturday.