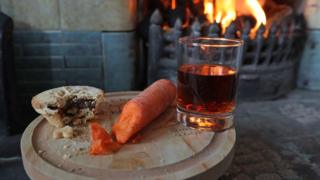 Father Christmas could be doing serious harm to his health by overloading with mince pies and sherry, a leading doctor has warned.
Professor Helen Stokes-Lampard, head of the Royal College of GPs, said Santa could face a raft of health issues because of his diet and busy schedule.
Some of his conditions could include gout, sleep deprivation and alcoholism.
But we can all help Santa get a bit fitter, and inspire ourselves too, she says.
Professor Stokes-Lampard said: "He's overweight, and all of us do our bit to add to his obesity by leaving mince pies and cookies out for him, and milk or alcohol.
"If Mr Claus was a patient at my practice, I would be encouraging him to adopt a vastly healthier diet and take more exercise in the new year."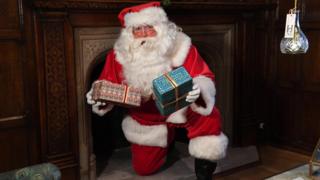 As well as running between houses, rather than riding on his sleigh, the professor thinks he should "give the sherry a miss" and share some of Rudolph's carrots instead.
"The human body can only process one unit of alcohol per hour, which means excessive consumption could make Santa drunk very quickly," she said.
"This not only increases the likelihood of him slipping in the snow or mixing up important presents, but could also lead to long-term issues affecting his mood and mental health."
So now Prof Stokes-Lampard thinks it is time for Saint Nicholas to take better care of himself and lead by example.
"Although he sets a brilliant example of good behaviour and teaches the importance of giving rather than receiving, he could probably do more to encourage healthy lifestyles – something youngsters and adults alike can benefit from," she says.