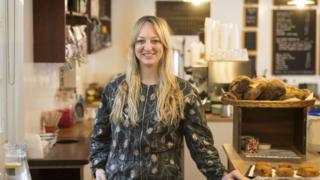 Knight in shining armor Harry and Meghan Markle have got chosen an organic lemon and elderflower cake for their wedding in May.
Instead of a more traditional fresh fruit cake, it will involve "spring" flavors and be covered with buttercream plus decorated with fresh flowers.
The couple have enrolled Californian pastry chef and meals writer Claire Ptak, owner from the Violet Bakery in east Greater london, to make it.
Ms Ptak said she was delighted which she shared the couple's ideals on food.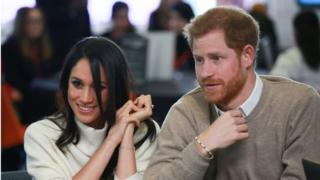 Kensington Palace stated the couple were "very a lot looking forward to sharing" the cake using their wedding guests on 19 Might.
Like Ms Markle, Ms Ptak was raised in Ca. She worked as a pastry recipient at Chez Panisse under gourmet and campaigner Alice Waters.

You may also be interested in:

The girl later moved to the UK where the lady worked at The Anchor and Wish gastropub in Waterloo and set upward a market stall on Broadway Marketplace, east London.
The girl said: "Knowing that they really reveal the same values as I do regarding food provenance, sustainability, seasonality and many importantly flavour, makes this the most interesting event to be a part of. "
Ms Markle has earlier interviewed Ms Ptak for her previous lifestyle website TheTig. com which usually covered topics such as food, attractiveness, fashion and travel.

Wedding cakes of the past
Prior to the wedding of Queen Victoria in 1840, wedding cakes were not regarded as an important part of the celebrations. Instead visitors at the wedding banquet were usually offered a slice of "bride pie".
Queen Victoria and Prince Albert's own dessert weighed 300lb and featured the particular figure of Britannia blessing the particular bride and groom – who were dressed in ancient greek language costume.
In 2016 a guy brought a leftover slice from the wedding cake meant for £ 1, 500 at an public sale.
In more current royal history, the Duke plus Duchess of Cambridge had 2 cakes for their wedding day.
The very first was an eight-tiered iced fresh fruit cake decorated along with 900 delicate sugar paste bouquets. The second was an unbaked dark chocolate biscuit cake – a favourite through Prince William's childhood – crafted from broken up rich tea biscuits by company McVitie's.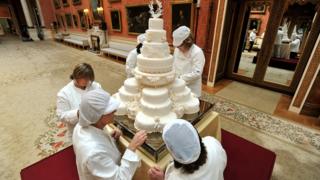 McVitie and Price furthermore made the Queen and Fight it out of Edinburgh's wedding cake within 1947 – it measured 9ft high.
Rather than flowers, this cake was embellished with painted panels of the armorial bearings of both families, monograms of the couple and sugar-iced numbers depicting their favourite activities.
The cake was produced using ingredients given as a wedding ceremony gift by the Australian Girl Manuals as rationing was still in position.
Prince Charles plus Princess Diana's wedding cake had been 5ft high, weighed 255lb, plus was made by the Royal Navy's Cookery school.
A slice of the cake was sold for £ 828 by an American auction house within 2014.


Get information from the BBC in your inbox, every weekday morning