London's housing market is being battered from all sides.
A survey by the Royal Institution of Chartered Surveyors showed a price gauge at its lowest level for seven years, and far below the national average. Real-estate agents are more pessimistic about the market in the capital than any other region, with contributors flagging a potent mix of concerns, including Brexit uncertainty, the Bank of England's interest-rate hike and the government's budget later this month.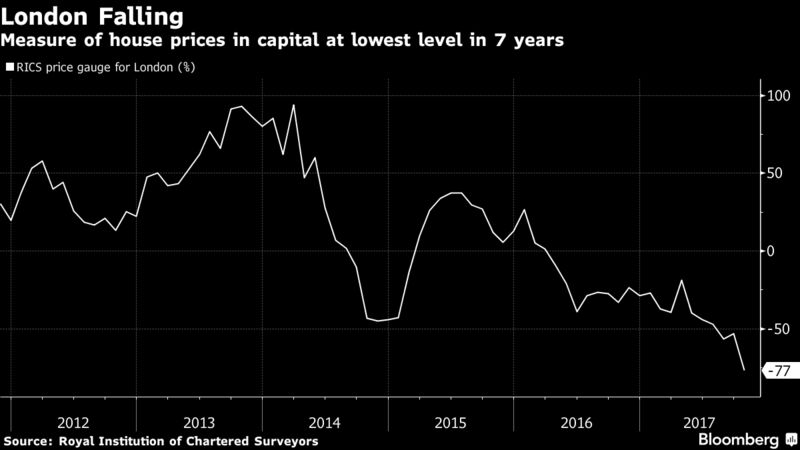 There's also evidence that the weakness in the capital is spreading — most U.K. regions showed a drop in sales in October, while a national gauge of prices turned dropped to near zero, indicating stagnant prices.
Here's what some brokers surveyed by RICS are saying about London:
Buyer Interest Collapse
"We usually have buyers registering, keen to move before Christmas, said Alan Fuller of Allan Fuller Estate Agents in Putney. "So far we are registering 80 percent less than normal during October. Vendors more receptive to price drops and some are agreeing to 10 percent reductions, which are then attracting interest."
East London Crash?
"The sales market has dramatically changed and technically crashed across the board," said valuer Josh Homans. "In E2, the difference between asking and sale price is a staggering 20 percent."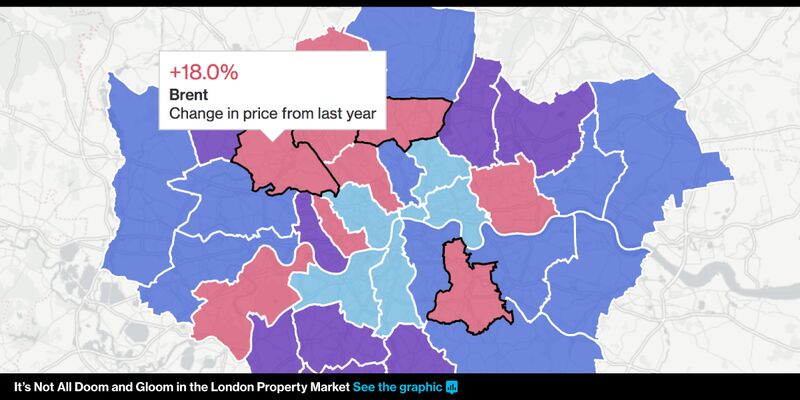 Limited Transactions

"October saw buyers more prepared to make offers, many at levels that vendors (who are
under no pressure) are not willing to accept, limiting the value of transactions," said Robert Green of John D Wood & Co. in Chelsea.
Brexit Uncertainty
"The market is slowly adapting to higher" stamp duty, said Christopher Ames of Ames Belgravia, "but still not coping with the Brexit uncertainty."
10% Below
"Market remains active up to 1.5 million pounds, whereas above 2 million pounds offers are
coming in around 10 percent below asking," said JJ King at Andrew Scott Robertson in the Merton borough. "Instruction levels are slowing although valuations are up."
Luxury Homes
"The prime London market shows signs of regaining momentum," James Crawford of Knight Frank said. Simon Aldous of Savills disagreed, saying prices across the best districts are continuing to soften with the greatest falls at the top end of the market.
Suppressed Demand
"Brexit uncertainty and stamp duty continue to suppress market activity," said James Gubbins of Dauntons in Pimlico.
Terry Osborne of Tuckerman Residential in the SW1 post code was even more succinct with his one-word summary of the market: "Brexit."