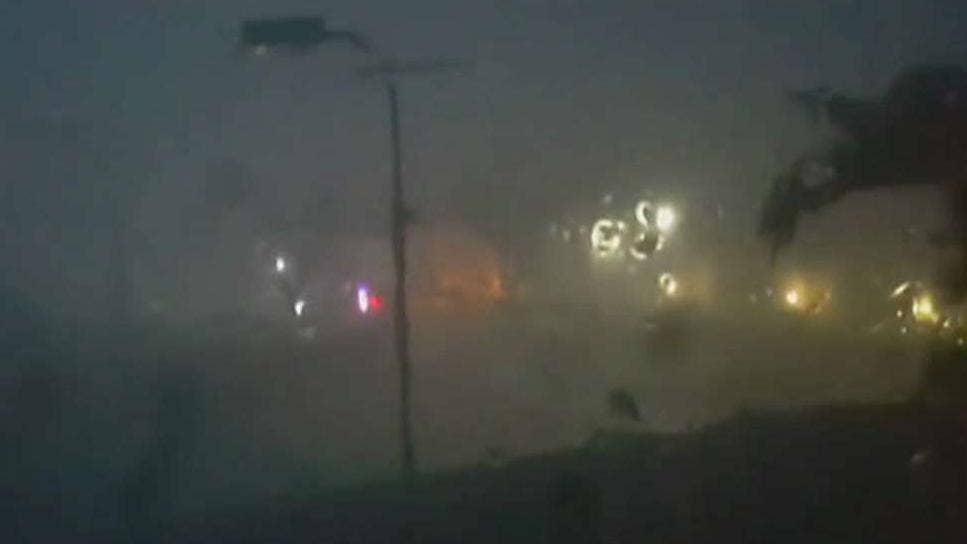 Hurricane Irma roared into the Caribbean Wednesday, passing over the islands of Saint Martin and Barbuda with 185 mph winds as the most powerful Atlantic Ocean hurricane in recorded history which Florida's governor warned was "stronger" than the last Category 5 storm to hit the U.S.
The center of the storm was about 65 miles east-southeast of St. Thomas about 11 a.m. Wednesday, the hurricane center said. It was heading west-northwest at 16 mph, closing in on the U.S. Virgin Islands.
As the eye of Irma passed over Barbuda around 2 a.m., phone lines went down under heavy rain and howling winds that sent debris flying as people huddled in their homes or government shelters.
TRACK THE STORM AT MYFOXHURRICANE.COM.
The storm tore off rooftops and knocked out all electricity on the French islands of Saint Martin and Saint Barthelemy, and France has requisitioned planes and sent in emergency food and water rations.
The regional authority for Guadeloupe and neighboring islands said in a statement Wednesday the fire station in Saint Barthelemy was under more than three feet of water and no rescue vehicles could move. Electricity was also partially down on the larger island of Guadeloupe, where the threat receded despite danger of heavy flooding.
French minister for overseas territories Annick Girardin expressed fear "for a certain number of our compatriots who unfortunately didn't want to listen to the protection measures and go to more secure sites," the Associated Press reported.
On Saint Martin, video posted to Twitter Radio Caraïbes International Guadeloupe showed damage to the Beach Plaza hotel, with debris strewn throughout the area.
Another video showed Saint Martin as Irma's eye passed, with streets flooded and boats piled up on each other in a harbor area.
A subsequent video posted to Facebook by someone in nearby St. Barhts with the caption "disaster" shows massive flooding, with some cars floating in city streets.
Further east, Antigua and Barbuda Prime Minister Gaston Browne said the twin-island nation appears to have weathered its brush, saying in a statement that there were no deaths in Antigua.
Preliminary reports also indicate there are no deaths in Barbuda, despite widespread reports of damaged buildings and downed trees. The prime minister says the airport will reopen at 2 p.m.
As Hurricane Irma continued its track west, the storm's most dangerous winds, usually nearest to the eye, were forecast to pass near the northern Virgin Islands and near or just north of Puerto Rico on Wednesday.
Hurricane Irma even forced Pope Francis to change his flight plan late Wednesday morning in order to avoid the storm, as he heads to Colombia to help solidify the South American nation's peace process. He was originally scheduled to fly over Puerto Rico and Venezuela before arriving in Colombia.
The National Weather Service said Puerto Rico had not seen a hurricane of Irma's magnitude since Hurricane San Felipe in 1928, which killed a total of 2,748 people in Guadeloupe, Puerto Rico and Florida.
"The dangerousness of this event is like nothing we've ever seen," Puerto Rico Gov. Ricardo Rossello said. "A lot of infrastructure won't be able to withstand this kind of force."
Since Tuesday, the island has opened 456 shelters for people living in vulnerable areas, El Nuevo Día newspaper reported.
Rossello said as of Wednesday morning there were about 700 people in shelters, mostly on the island's northeast coast and in Ponce.
"We must prepare ourselves for the worst," he said at a news conference. "The result of not doing so would be devastating."
While the impacts of Irma on the U.S. mainland are still to be determined, Florida Gov. Rick Scott activated 1,000 members of the Florida National Guard to be deployed across the state, and 7,000 National Guard members were to report for duty Friday when the storm could be approaching the area.
"The storm is bigger, faster, and stronger than Hurricane Andrew," Scott said Wednesday, referring to the last Category 5 storm to hit the U.S in 1992. He warned Irma may bring "significant storm surge" to the state not seen during Andrew.
On Monday, Scott declared a state of emergency in all of Florida's 67 counties.
Officials in the Florida Keys geared up to get tourists and residents out of Irma's path, and the mayor of Miami-Dade county said people should be prepared to evacuate Miami Beach and most of the county's coastal areas.
Mayor Carlos Gimenez said the voluntary evacuations could begin as soon as Wednesday evening. He activated the emergency operation center and urged residents to have three days' worth of food and water.
President Trump declared emergencies in Florida, Puerto Rico and the U.S. Virgin Islands, and authorities in the Bahamas said they would evacuate six southern islands.
Four other storms have had winds as strong in the overall Atlantic region but they were in the Caribbean Sea or the Gulf of Mexico, which are usually home to warmer waters that fuel cyclones.
Hurricane Allen hit with 190 mph winds in 1980, while 2005's Wilma, 1988's Gilbert and a 1935 great Florida Key storm all had 185 mph winds.
Bahamas Prime Minister Hubert Minnis said his government was evacuating the six islands in the south because authorities would not be able to help anyone caught in the "potentially catastrophic" wind, flooding and storm surge. People there would be flown to Nassau starting Wednesday in what he called the largest storm evacuation in the country's history.
"The price you may pay for not evacuating is your life or serious physical harm," Minnis said.
A new tropical storm also formed in the Atlantic on Tuesday, to the east of Irma. The hurricane center said Tropical Storm Jose was about 1,255 miles east of the Lesser Antilles late Tuesday and its maximum sustained winds had risen to 60 mph. It was moving west at 13 mph and is expected to become a hurricane by Wednesday night.
Meanwhile, Tropical Storm Katia formed early Wednesday in the Gulf of Mexico off Mexico's coast. The storm has maximum sustained winds near 40 mph and is expected to strengthen in the next few days, according to the hurricane center. However, the storm is thought to stay offshore through Friday morning.
The Associated Press contributed to this report.