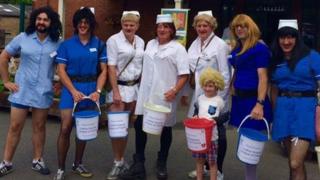 A medical center has turned down a £ two, 500 donation from a group of males dressed up as nurses after employers said the outfits were "demeaning".
The group, which was assisting Ludlow Hospital in Shropshire, elevated the money by pushing a mattress around the town.
January Ditheridge, chief executive of Shropshire Neighborhood Health NHS Trust, said the particular behaviour was "insulting".
The hospital's friends group mentioned it was a "sad day just for public support for our health services".
See more stories from throughout Shropshire here
A letter to Peter Corfield, chair of Ludlow Hospital Little league of Friends, from Ms Ditheridge and chair of the trust Paul Ridley, said: "The presentation associated with men dressed as female healthcare professionals in a highly-sexualised and demeaning method is wrong, very outdated plus insulting to the profession. "
Mr Corfield mentioned the bed-push fundraiser had occurred every summer for decades involving males from the local community and was "light-hearted".
He said arises from this year's event had been reserved to provide ECG machines for the outpatients and minor injuries departments with Ludlow.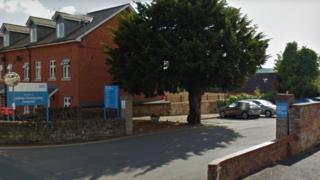 "We have as a result now had to withdraw the financing for those items, " he additional.
Alison Hiles, whose husband took part in case, said: "Nobody's complained, everybody appears to enter into the spirit of it, local people know that it's going on, those that do not get local really enjoy the event and have always a chat with the lads plus willingly give money, nobody pushes them.
"I usually do not know why all of a sudden that it's an issue. "
Ms Ditheridge said: "We have previously questioned that this doesn't happen and therefore don't believe it's right to accept any money connected with this activity. "
Many people, including nurses, have taken to social networking to voice their particular support for the fundraisers.
Tracy Morgan Jones wrote upon Facebook: "It's money raised in the fun way in a costume designed to draw attention to the worthy trigger not insult the hard-working physicians and nurses. "
Gemma Davies said: "I'm the nurse and am not at all insulted. How stupid! ", while Hannah Holt added: "Refusing the money is definitely an insult to the profession. I love as being a nurse and I love people dressing as nurses…. it's a sign associated with admiration. "
Other people suggested the money would be welcome somewhere else, including Ann Lanham who mentioned: "I'm sure there are plenty of other great causes in the area who will be ready to accept the money. "