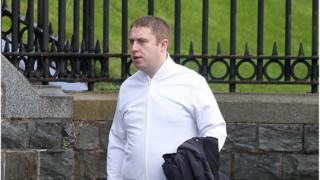 The 27-year-old man from County Straight down has been convicted of killing plus cooking a dog, before feeding this to another pet.
Dominic O'Connor strangled four-year-old collie, Jess, with a lead before cooking food it using "a few onions and an Oxo cube" final December.
O'Connor, who suffers from a personality problem, was found guilty of causing needless suffering to a dog, which he previously bought on Facebook.
He is due to be sentenced the following month.
At the two-day-trial, Downpatrick Crown court was informed that O'Connor, formerly known as Bill Moscari, bought the dog on Fb.
During law enforcement questioning, he explained how he previously tried to strangle the animal with a single lead, but because it had "too much give" he used an inferior one.
This individual said he then cut the animal upward, cooking some of it and nourishing it to another dog.
"I cooked it and given it to the other dog having a few onions and an Oxo cube and salt and spice up, " he said.
O'Connor then cut up the particular dog's carcass with an axe plus bread knife, burned it on the fire and dumped the ashes in Portavogie harbour.
The incident was revealed when O'Connor, of Roden Road in Kircubbin, told hospital health care professionals what he had done.
Police then visited their house, where they found burnt dog hair and a liquid over the grate of the fire.
A friend of O'Connor's informed the jury she had observed the collie one day, but observed it was missing the following day.
She added that will she noticed the shower display had been pulled across in O'Connor's bathroom and that the house "seemed unusual… there was a weird smell in order to it".
The lady said he had later confessed which he had strangled the dog, put it within the shower and then into the bin as soon as she had left.
O'Connor conceded that people will be disgusted by his actions, plus recognised "part of it was wrong".
He will come in court for sentencing on twenty one November.