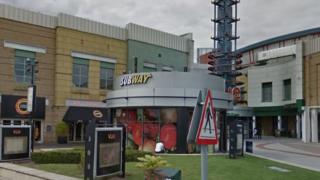 A man has passed away after his head became wedged under the electronic footrest of a cinema's "Gold Class" seat.
Operator Vue International said a study at its Birmingham StarCity location was under way.
The man died, it said, upon Friday – one week after the event.
West Midlands Ambulance Service said it was known as to reports of a patient within cardiac arrest and crews was able to restart the man's heart just before taking him to hospital.
The Birmingham Mail reported it happened after the man bent right down to retrieve a phone dropped between Gold Class seats at the end of a movie.
He was only separated, it said, when the footrest has been broken by those trying to assist.
The website regarding StarCity – the entertainment complicated at which the cinema is based : describes Gold Class as providing "luxury seating".
Within a statement, Vue International confirmed a client was taken to hospital on Fri and was "saddened" to learn associated with his death.
This said: "A full investigation to the nature of the incident is continuous. Our thoughts and condolences are usually with the family who have our complete support and assistance. "
Restart heart
West Midlands Ambulance Provider said it was called at about nineteen: 00.
A spokesperson said: "Crews arrived on picture to find a man in cardiac police arrest with bystanders having already started CPR.
"Ambulance staff members took over and administered advanced lifetime support, successfully managing to reboot the man's heart. "
Mark Croxford, head associated with environmental health at Birmingham Town Council, said the authority have been notified and a health and safety investigation got begun.