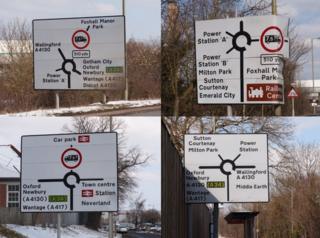 Fictional worlds for example Narnia, Gotham City and Neverland have mysteriously appeared on street signs in Oxfordshire.
The roundabout signs in Didcot – described as England's most normal city – also immediate drivers to Middle Earth plus Emerald City.
The particular fantasy locations were recently put into five signs along the A4130 within Oxfordshire.
The region council said although the signage had been amusing, it was "vandalism" and could discompose drivers.
A declaration said: "We will investigate when the weather improves. While on the surface entertaining, it is vandalism and a potential frenzymadness, desperation, hysteria, mania, insanity, delirium, derangement for drivers. "
Local resident Charlotte Westgate stated she saw a hooded guy in his 20s adding "Gotham City" to a sign on Friday afternoon.
She said: "He had been on his own, and didn't seem concerned that anyone might be looking at your pet, but no one driving past do anything to stop him. "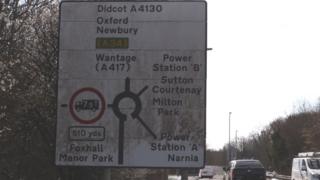 Many people described viewing the signs after they were posted upon Facebook , with Bethany Jade writing: "These are actually real. Just how brilliant. "
Didcot's mayor Jackie Billington said mentioned she thought the signs might make motorists smile when they discovered them.
She stated: "It proves yet again, that Didcot is more than just a "normal" town, it might be quite quirky now with the brand new signage. "

You may also such as: