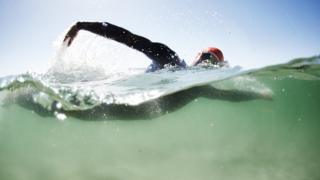 A man who suffered constant discomfort after surgery cured it through a plunge in cold open up water.
The particular man's case has been reviewed simply by doctors who suggest a short, razor-sharp cold water swim may provide an alternative to strong painkillers plus physiotherapy.
The particular 28-year-old man who suffered from post-operative pain found it disappeared completely after doing an open water go swimming.
However cool water swimming does not suit everybody and entails risks.
The man had been a keen triathlete just before his operation and had found standard treatments had made little distinction to his severe pain.
His story will be detailed in the journal BMJ Case Reviews.
Report writer Dr Tom Mole, from the University or college of Cambridge, said he expectations that it "gives new hope to individuals recovering from pain after surgery".
The man, who suffered from too much facial flushing, underwent an operation (endoscopic thoracic sympathectomy) that cut the particular triggering nerves inside his upper body.
The surgical treatment went well but afterwards he or she suffered from severe, persistent pain which usually caused him a "great offer of distress".
He found conventional treatments got made little difference to their severe pain. He said physical exercise and movement in his physiotherapy classes made the pain worse, which avoided him from completing his rehab.
---
Cold water swimming – risks and guidance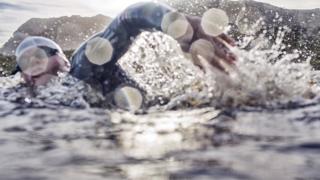 Outdoor swimming within cold water saps your body warmth, so your arms and legs get weaker. In such a circumstance, you could get into trouble if you're not able to get out of the water.
Wear a wetsuit for anything more than a quick dip
Don't jump into cold drinking water – wade in slowly rather
Swim close to the shore
Take hot clothes to put on afterwards – during summer you'll feel colder if you get out
Take extra care within reservoirs, which are deeper and chillier than lakes and rivers
Shivering and the teeth chattering are the first symptoms of hypothermia. If that happens, get out of the water plus warm up
Source: NHS Options
---
A keen triathlete before his procedure, he decided to do an open drinking water swim to take his mind from the pain.
The person, who has not been named, mentioned it was a "long shot" about whether it would help his discomfort but he was "desperate to obtain some relief".
The particular swim entailed plunging into the drinking water from a rocky outcrop and going swimming for around a minute before he could achieve somewhere to safely climb back again ashore.
"I at first thought 'damn this is so frosty I'm going to die! ' and I simply swam for my life, " he or she told the report's authors.
"Once I was within the water, I had tunnel vision : for the first time in months, I totally forgot about the pain or the anxiety about shooting pains in my chest easily moved.
"My entire body tingled with the cold. I simply knew if I didn't keep going swimming, I'd soon freeze. After a couple of moments I actually enjoyed it — it was just an immersive hurry of adrenaline.
"When I came out of the water, I actually realised the neuropathic pain choose to go away. I couldn't believe this. "
Anxiety about drowning
The writers believe it is the first case of its type documented, although cold water bathing have been used in sports medicine to help ease injuries.
Even though it is unclear why it evidently cured his pain, they say there are several possible explanations:
The shock of the sudden cool water immersion and the fear of too much water might have induced a wave associated with nervous system activity and a possible altered level of consciousness that could result in altered pain perception
The particular enforced cold swimming may provide a number of high intensity distraction stimuli that could outcompete nerve endings and stop perception of pain
The male's reduced mobility might have helped conserve the pain, so the pain relief he sensed in the water would have enabled your pet to move freely therefore breaking the routine
The authors caution it really is only one patient and say a lot more research is needed "to assess the replicability and feasibility of forced frosty water swimming as a potentially efficient, natural intervention to enhance recovery results from common post-operative complications".
The authors warn that will cold water swimming is not for everybody – and there is a significant danger of hypothermia.
There is also a risk from the body's severe cold shock response, which may impact the arm muscles while swimming and may lead to incapacitation and potential too much water within minutes if unsupervised.