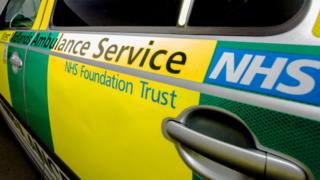 A paramedic has been attacked in what was thought to be a row over where the ambulance had been parked.
The unnamed paramedic had been called to Sparkhill in Birmingham to help a woman with chest pain when he was attacked, leaving him injured.
Crewmate Tasha Starkey said she was also threatened and verbally abused.
A 49-year-old man was arrested nearby on suspicion of assault and a public order offence and remains in police custody.
Midlands Live: More than 200 homes without power; Winds causing huge snowdrifts on roads
The assault is the latest in a string involving West Midlands Ambulance Service staff.
Friday's attack, in Stratford Street at 10:40 GMT, led to the woman suffering chest pains being taken to hospital by a different ambulance crew while the two original paramedics gave statements to police.

You may also be interested in:

Ms Starkey, a paramedic based at Hollymoor in Birmingham, tweeted how upset she was after the incident and said the way the crew had parked, amid snowy conditions, had not caused any obstruction.
Her co-worker's arm injury is not believed to be serious.
West Midlands Police said a man, of no fixed abode, had been arrested.
The ambulance service tweeted that workers were currently battling through "treacherous" conditions in order to get to work to continue helping those in need.
It has previously called for tougher punishments for people who attack or abuse its workers, after a paramedic was bitten on the arm as he helped nurses treat a patient at a Staffordshire hospital on the same day his colleagues were verbally abused and told to move their ambulance in an abusive note.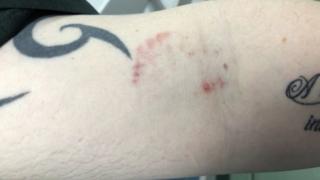 Mike Duggan, paramedic operational manager for West Midlands Ambulance Service said: "It is disgusting it is increasing and it is time that the courts started issuing harsh penalties."