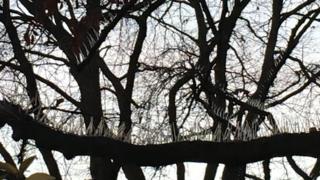 Anti-pigeon spikes placed on tree branches to stop birds pooing on cars have been branded "idiotic".
The spikes on Pembroke Road, Clifton, Bristol, were erected by the management company of nearby Bartlett Court flats to protect residents' "expensive cars".
Hillcrest Estate Management said the trees attract roosting pigeons and it needs to protect vehicles at the "prestigious development".
But wildlife experts have criticised the move.
Nature writer Jennifer Garrett said the spikes were a "war on wildlife" on Twitter.
While James Common tweeted to say it was "quite possibly the most idiotic thing I've ever seen this year".
Another Twitter user criticised residents for not using a "sponge and bucket" to clean their cars.
And Mike Dilger, wildlife reporter for The One Show, said: "It's another example of a small number of people who live in the city and want the city aseptic and void of wildlife.
"They're anaesthetised to nature."
'No washing facilities'
However, one resident, who did not want to be named, said the spikes "don't prevent other wildlife" and the trees are "full of squirrels".
"It's quite hard to wash cars out here because there's no washing facilities so it's quite a problem for residents," they added.
Hillcrest Estate Management said it had tried a number of measures to deter the pigeons, including fake birds and noise deterrents, but had little success and installed the spikes in 2014.
The firm added: "Bird detritus can cause permanent damage to the paintwork on cars if not removed promptly and the worst affected leaseholders wanted action taken to try and improve the situation."
In September, Stevenage Borough Council, in Hertfordshire, put spikes on a tree in the town centre to prevent "mess and disease".