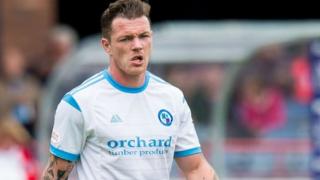 A footballer has explained being taunted by fellow gamers and fans after he talked out publicly about his psychological health struggles.
Jesse Cox, who plays for Scottish League Two side Cowdenbeath, mentioned he had been called a "psycho" and mocked about "slitting their wrists".
The 28-year-old has called for the game's specialists to act on the abuse in the same way they are doing against racism.
The particular Scottish Football Association said documented cases would be investigated.
'Bad place'
Speaking to Radio Scotland's John Beattie , David Cox said he had already been abused by football fans plus colleagues alike since revealing that he experienced self-harmed and attempted suicide .
He said: "I had fans shouting on the message to me shortly after I did my experience, 'go and hang yourself and perform it right this time'.
"I've had other companies mentioning me slitting my arms and stuff.
"You get the fans that come in pay their money, they say what they want and then they go back home and forget about it and We are the one that it affects.