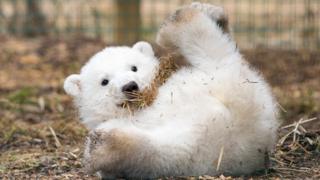 The very first polar bear cub to be delivered in the UK for 25 years has been called Hamish after a public vote to get a name.
The man cub was born at the Highland Animals Park, near Kincraig, in December.
The park chose 4 possible names and invited individuals to vote for their favourite.
There were more than 36, 000 ballots with more than 21, 700 for Hamish. The other options were Poulsen, MacKinnon and Artor.
Otherwise Poulsen was a renowned bear behaviourist, while MacKinnon is the name of the "dedicated supporter" of the park.
Staff said Artor was obviously a Pictish name which directly pertains to bears, as well as "a nod" towards the cub's father, whose name Arktos means "bear" in Greek.
They said Hamish was "a strong Scottish name that our owners like. Ideal for a polar carry born in the Highlands? "