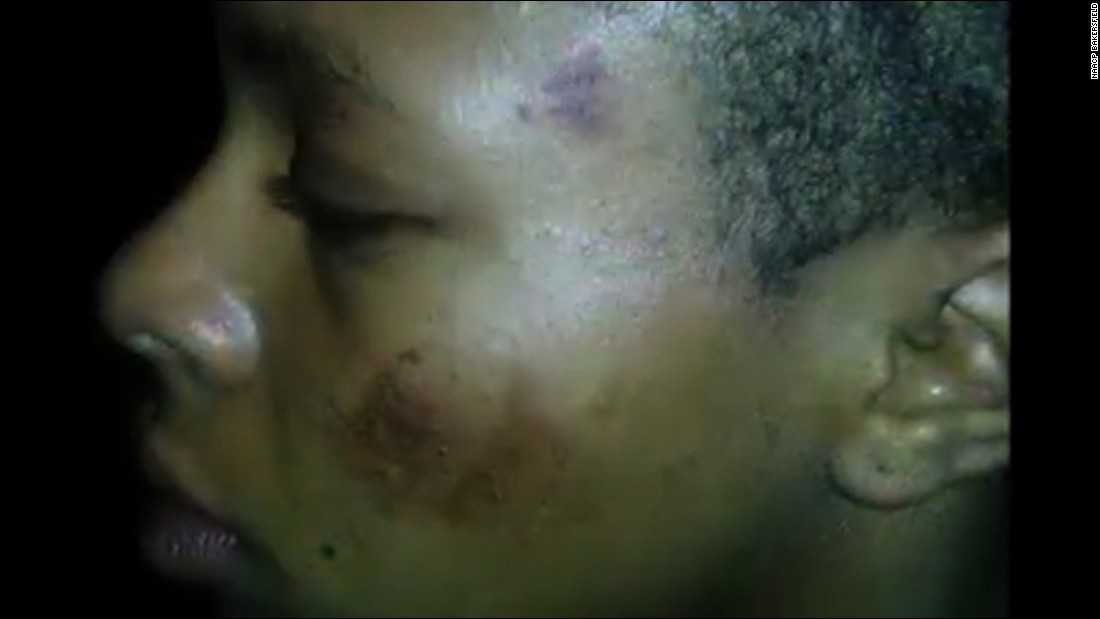 (CNN) The black teenager says that law enforcement officers beat her and allowed the police dog to attack the girl last month — all simply because they mistook her for an adult man suspect.
The police report documenting Hargrove's arrest says that officers ceased her because "she appeared to be the male and matched the description" of a suspect who had brandished a machete at the grocery store previously that day, and because she had been "within the same complex the believe had fled to. "
Officers stated at the time that the 19-year-old got along with one of the officers in a scuffle, and they used force and employed the authorities dog to prevent her from doing harm to him.
Hargrove has not made any public claims aside from the video, and her dad told CNN she is not prepared to speak to the media. She would not really consent to an interview with CNN.
After the release of the video informing the teen's side of the tale, the department is promising a study.
The particular incident
In the law enforcement report, the suspect police had been seeking is described as a 5′ 10″-6'0″ tall, 160-170 pound dark male in his 20s or 30s with a shaved head and goatee, who is "transient in appearance. "
Hargrove's parents state in the video that they can't think police confused their daughter for that suspect, given how dramatically the girl differs from that description. The authorities report notes Hargrove is 5′ 2″ and weighs 120 lbs.
Link Within the video, Hargrove, standing on crutches, states she was riding her bicycle home in 103-degree heat upon June 18 and stopped in a street corner to take a drink associated with water. When she turned around, the girl says, "there were three police officer cars, and one of the officers currently had a gun drawn at myself. "
The particular officers asked her if the lady had been in a nearby grocery store plus demanded she give them her back pack, Hargrove says in the video. Right after she handed over the backpack, one particular officer began to beat her and place a police dog on her, the girl says.
"He grabbed me by my hand like this, and then he grabbed me personally by my neck, punched me personally, and then threw me on the ground, inch Hargrove says. "And then which is when the K9 came and began eating at my leg. "
She says that certain officer put his knee within her back. "I told your pet I couldn't breathe, " the girl says. "Then he put their other knee in my head, then I told him, 'I still cannot breathe, I can't breathe. '"
She screamed for help, Hargrove says, plus an officer took her and set her in the back of a squad vehicle. While she was entering the vehicle, she says she could listen to someone say "that's not the particular guy, that's not the guy. inch
In the law enforcement report, officers claimed that Hargrove resisted when they stopped her, dropped on top of one of them and turned more than "in a mounting position. " The particular officer "punched Hargrove one time within the mouth in an attempt to force her away from him, " the report states, but she "quickly maneuvered the girl body to get back on top of your pet, " after which a second officer instructed the police dog "to engage Hargrove. "
'In no way a race thing'
Sergeant Ryan Kroeker, public information officer for your Bakersfield Police Department, said that law enforcement only learned about Hargrove's allegations with the Facebook video, and that no public complaint had been filed with the law enforcement department. Police Chief Lyle Matn announced that an internal investigation would be carried out in response to the video.
"Chief Martin is very thinking about strengthening the relationship between the police section and the community, " Kroeker stated. "We want to be open and clear. "
Bakersfield Police Officer's Association President Ramon Chavez defended the officers' activities, saying that it's their job in order to detain and question people who suit the description of a wanted person.
"I may say for a fact that this was not really racially motivated, " he mentioned. "Our officers are well-trained and no way was this a competition thing, " he said.
'She is really a victim, not a criminal'
The NAACP within Bakersfield said that Hargrove's family approached them immediately after the incident. These people took some time to release the video simply because they wanted to conduct their own investigation straight into what happened, said Patrick Jackson, chief executive of the NAACP Bakersfield Chapter, who the family has authorized to talk on their behalf.
The family went to the NAACP rather than reporting the incident to law enforcement because they felt that nothing will be done, Jackson said. "Our concentrate is for the charges against Tatyana to be dropped, " he stated. "In the past, we have not observed the police department do right by way of a own internal investigations, and so precisely why waste our time and sources with them? We know we would get a much better response by going public initial. "
The girls has started a petition phoning for the charges to be dropped as well as for the officers involved to be self-disciplined. The NAACP also set up the GoFundMe page to help Hargrove's family members pay for medical expenses.
"She is a victim, not really a criminal, " Jackson said. "We also want an oversight neighborhood committee, and body cameras upon officers. "
Hargrove's father told CNN that will Tatyana is still shaken from the experience. "This was a very painful encounter and it is a long road to recuperation, " Reece said. "She does not want to be left alone or even go out. She was just a happy, enthusiastic, full-of-life girl who worked, great she is at home and doesn't wish to go anywhere. "
The Bakersfield Law enforcement Department was already under investigation with regard to other potential civil rights infractions by the California Department of Proper rights. On December of 2016, the particular attorney general launched an investigation to the police department's alleged use of too much force and other serious misconduct.
That analysis is ongoing, the California Division of Justice said in a declaration.