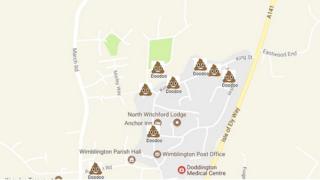 Fed-up village occupants have come up with a "poo-shaming" chart in a bid to tackle canine fouling.
Dubbed Doodoowatch, the scheme allows locals within Wimblington, Cambridgeshire, to mark throwing spots on an interactive map.
Amanda Carlin, who dreamed up the idea, said it was "not for the squeamish" as users may also upload photos of any undesired deposits.
She stated it was a "fun way of handling a serious issue".
Exactly where poo is reported, she signifies it on a map of the town using a smiley poo emoji.
The reports are after that passed on to the local council, or, in some instances, cleaned up by the village's the majority of dedicated faeces fighters.
Former parish councillor Mrs Carlin said she hoped people will be "shamed" into bagging their pets' poo.
The chart will show people where it really is safe and clean to stroll with their children and pets, the girl said.
She programs to monitor the scheme to see when the public posts result in fewer instances in the village.

You might also such as:

Fenland Region Council – whose officers react to reports of dog fouling : has recently stepped up its patrols in the county and anyone captured failing to clean up after their own dog could be issued with a £ 75 fixed penalty notice.