Pope Francis issued a scathing rebuke of Catholics who prioritize some church laws and doctrines ― including those condemning abortion ― over fighting for the poor and the oppressed.
In an apostolic exhortation released Monday, Francis lamented that some Catholics think of protecting many marginalized groups as a secondary or superficial issue. The pontiff said that while efforts to restrict abortion are crucial, it' s just as important for members of his flock to fight for the rights of the " already born. "
" Our defense of the innocent unborn, for example, needs to be clear, firm and passionate, " Francis wrote in his exhortation. " Equally sacred, however, are the lives of the poor, those already born, the destitute, the abandoned and the underprivileged, the vulnerable infirm and elderly exposed to covert euthanasia, the victims of human trafficking, new forms of slavery, and every form of rejection. "
" We cannot uphold an ideal of holiness that would ignore injustice in a world where some revel, spend with abandon and live only for the latest consumer goods, even as others look on from afar, living their entire lives in abject poverty, " the pope wrote.
He added that he' s often heard Catholics talk about the plight of migrants as a " lesser issue, " compared to certain " bioethical" concerns. In what looked like an admonishment of anti-refugee sentiment among Christians in Europe and the U. S., Francis condemned the idea that defending migrants should be a secondary concern.
" That a politician looking for votes might say such a thing is understandable, but not a Christian, for whom the only proper attitude is to stand in the shoes of those brothers and sisters of ours who risk their lives to offer a future to their children, " he wrote.
" Can we not realize that this is exactly what Jesus demands of us, when he tells us that in welcoming the stranger we welcome him? " he asked, pointing to Matthew 25: 35 .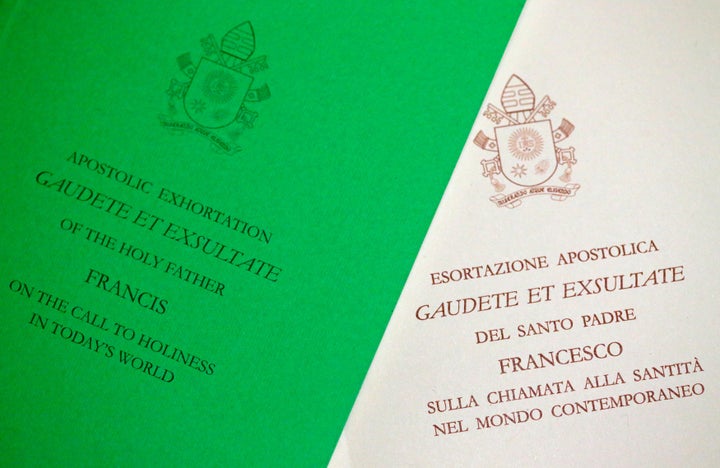 An apostolic exhortation is one way the pope can formally counsel the Roman Catholic Church around the world. The document released Monday, titled " Gaudete et Exsultate " (Rejoice and Be Glad), is the third such exhortation of Francis' papacy. It was signed March 19 , The Associated Press reports.
The pope' s focus this time was calling on Catholics to live holy lives and be the " saints next door" ― ordinary, humble people who reflect God' s presence by living out the Beatitudes, key Christian teachings about mercy and spirituality . These " saints next door" may not be canonized and officially recognized, but they raise their children with love and work hard to support their families. They are patient, kind and charitable, using small gestures to share God' s love with others. Holiness isn' t necessarily about perfection, Francis explained, but about " living our lives with love and … bearing witness in everything we do, wherever we find ourselves. "
The enemies of this everyday holiness are those who " worship" their own abilities and feel superior to others because they observe certain rules, Francis wrote. The fruits of that misguided attitude are, among other things, " an obsession with the law, an absorption with social and political advantages, [and] a punctilious concern for the Church' s liturgy, doctrine and prestige. "
Francis criticized those who focus only on doctrine without also demonstrating mercy and compassion.
" Not infrequently, contrary to the promptings of the Spirit, the life of the Church can become a museum piece or the possession of a select few. This can occur when some groups of Christians give excessive importance to certain rules, customs or ways of acting, " Francis wrote. " The Gospel then tends to be reduced and constricted, deprived of its simplicity, allure and savor. "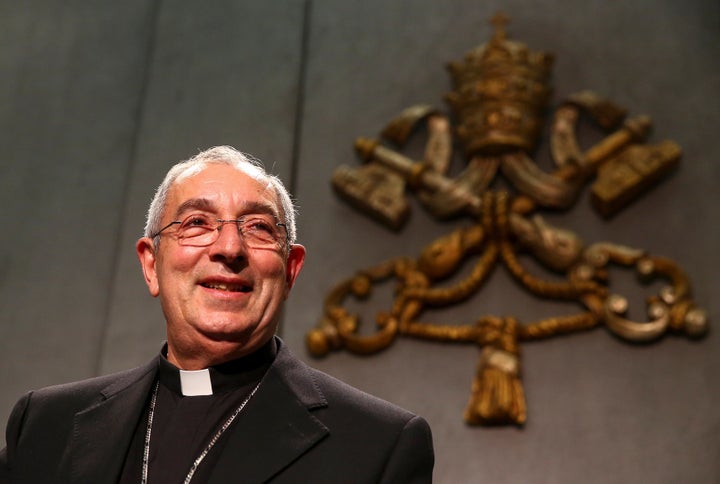 Francis is still facing backlash over his second exhortation, the 2016 " Amoris Laetitia" (The Joy of Love), which appeared to suggest that divorced and civilly remarried Catholics could potentially receive Communion. That would be a break from long-standing Catholic tradition. Conservative cardinals and bishops have been pressing Francis to clarify his stance on the matter.
Just last Saturday, several hundred Catholics gathered for a summit in Rome to discuss who may receive Communion. The participants rejected the idea of allowing divorced and civilly remarried individuals to do so and urged " the pope and the bishops to confirm us in the faith. " One of Francis' fiercest American critics, Cardinal Raymond Burke, said during the summit that the pope should be corrected if he steps outside the traditional teachings of the church.
Francis hasn' t responded directly to those critics with a clarification of " Amoris Laetitia. " But in his latest exhortation, he said that within the Catholic Church, " there legitimately coexist different ways of interpreting many aspects of doctrine and Christian life. "
These different interpretations may trouble those who long for a " monolithic body of doctrine guarded by all, " but Francis wrote they " help to express more clearly the immense riches of God' s word. "