Qatar Airways Ltd. agreed to acquire a stake in Cathay Pacific Airways Ltd., a deal that would help it gain a foothold in the world's second-biggest aviation market.
The Middle Eastern carrier will buy 9.6 percent of Cathay from Hong Kong-based Kingboard Chemical Holdings Ltd. and related companies for HK$5.16 billion ($662 million), according to a filing to the city's stock exchange Monday. Chief Executive Officer Akbar Al Baker, confirming the deal, said the investment "further supports Qatar Airways investment strategy."
Shares of Cathay fell as much as 4.9 percent to HK$12.56 on Monday, the biggest intraday drop in more than five months.
The purchase, the first ever investment by a Middle Eastern airline in an East Asian carrier, when complete would make the Doha-based company the third-largest shareholder in Cathay and would also provide access to mainland China, a country is set to emerge as the world's biggest aviation market within a decade. The deal comes a few months after Qatar Airways dropped a plan to invest in American Airlines Group Inc., which rebuffed the attempt.
"Geographically, the Middle Eastern carriers have been constrained from conquering Hong Kong and China," said Mohshin Aziz, an analyst at Maybank Investment Bank Bhd. in Kuala Lumpur. "They have a lot of capacity so they have to look elsewhere. If both airlines can work together, it will definitely be good for Cathay."
The Middle Eastern airline has a 20 percent stake in British Airways parent IAG SA. It also has 10 percent of Latam Airlines Group SA, the biggest South American carrier, and plans to take a 49 percent stake in minor Italian operator Meridiana SpA.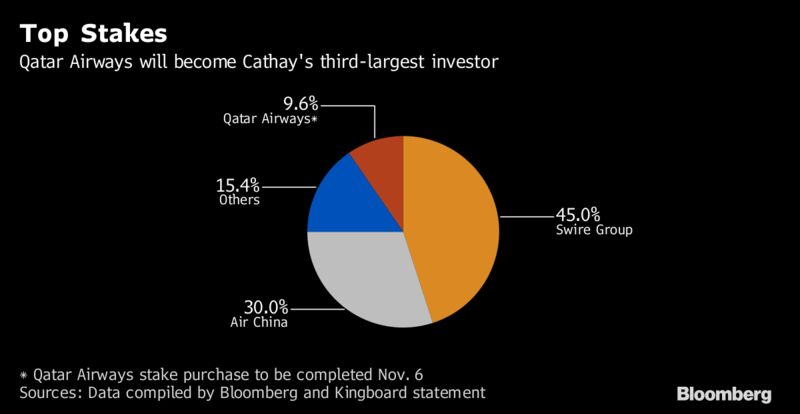 China has been at the center of many deals as global airlines seek a piece of the pie as international traffic from the country surges. Delta Air Lines Inc. bought a minority stake in China Eastern Airlines Corp. in 2015, while American Airlines purchase a minority stake in China Southern Airlines Co.
The International Air Transport Association predicts passengers will nearly double to 7.8 billion by 2036, and Asia Pacific will contribute more than half of the new additions.
Cathay is in the midst of the biggest corporate revamp in two decades to help revive earnings after getting squeezed between Middle Eastern carriers such as Emirates Airline and Etihad Airways PJSC on the premium end of travel, and low-cost and mainland Chinese rivals at the other. It has announced job cuts and was in talks with pilots over compensation as it reported its worst half-year loss in at least two decades in the six months through June.
In a statement Monday, Cathay CEO Rupert Hogg said he looks forward to a "continued constructive relationship."
A prior attempt to buy an American Air stake didn't go well for Qatar Airways. The U.S. company's chief, Doug Parker said he wasn't keen on having the Gulf carrier as a shareholder. While the airlines are partners in the Oneworld alliance, Qatar Airways' move came as a surprise since American had publicly opposed the growth of Middle Eastern airlines in the U.S., saying they've benefited from $50 billion in illegal aid.
Cathay Pacific is also part of the Oneworld alliance. Hong Kong conglomerate Swire Pacific Ltd., is the largest shareholder of Cathay with 45 percent, followed by state-owned Air China Ltd. with 29.99%.
"Cathay Pacific is one of the strongest airlines in the world, respected throughout the industry and with massive potential future," Qatar Airways said in its statement.
Qatar Airways will buy about 378.2 million shares at HK$13.65 apiece in cash, a 3.4 percent premium over Friday's closing price of HK$13.20. The transaction will be completed later Monday, Qatar Airways said.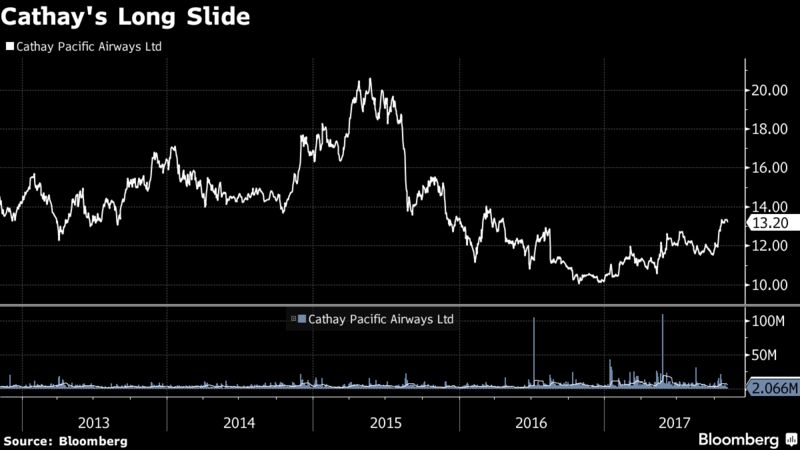 "I don't see Cathay being excited about this and I wouldn't expect major changes even in the medium term," said Will Horton, an analyst at CAPA Centre for Aviation in Hong Kong. "It has the flavor of a passive stake despite the optics appearing significant."
Kingboard Chemical, a diversified group that is into the manufacture of laminates, glass yarn and copper foil, had built up the stake in Cathay Pacific through purchases from the stock market along with its associates.