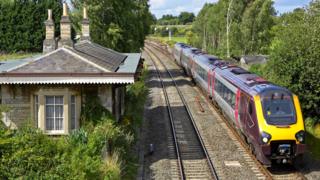 Firms which operate passenger services would also manage the tracks their trains run on, under government plans to fix "creaking" UK railways.
East Coast mainline would be the first service to try the new model from 2020.
Transport Secretary Chris Grayling said: "It means when things go wrong, there's one team to sort it out".
The move is part of a new government rail strategy that could see the reopening of some lines that were closed in the 1960s.
At the moment Network Rail, which is state-owned, looks after the track and other infrastructure while train services are operated by private companies.
Mr Grayling said Network Rail was a "big blob at the centre" and said it "makes sense" to run trains and the track together.
"The system is creaking – it's bursting at the seams," he told BBC Radio 4's Today programme.
The East Coast mainline, which connects London, the North East and Scotland, would be the first of a "new generation of long-term regional partnerships," he said.
Sir Richard Branson, Virgin Trains' founder, said the current system of running the track and trains separately "doesn't work" and causes delays.
He has blamed a "far too big" Network Rail for causing disruption, adding: "I've always said that having a single, centralised rail infrastructure provider across the UK doesn't work.
"There needs to be a greater local focus and [Mr Grayling's] announcement is a welcome move in this direction."
Tracks revived
Meanwhile, some rail routes lost under Richard Beeching in the 1960s and British Rail in the 1970s could be restored.
Some 4,000 miles of track was closed in the 1960s, mainly in rural areas, which became known as the Beeching cuts.
Mr Grayling said rail lines would be re-opened if they unlock jobs, encourage house building, ease congestion and offer "value for money".
Work on the Oxford to Cambridge route starts next summer, and plans to re-open routes around Bristol, Birmingham, Exeter and the North East are being considered.
The government will also consider splitting up two of the biggest train operators – Great Western and GTR, which comprises Southern, Thameslink and Great Northern.
That could result in one company running high-speed lines between London, Bristol and south Wales, while another runs local services across the South West.
---
Train and track together?

By BBC Transport Correspondent Richard Westcott:
I have never met anyone in the rail industry – either pro- or anti-privatisation – who thinks it was a good idea to split up who runs the trains and who runs the track and signals.
But that is what we have got.
There have been plenty of stories about Network Rail teams arguing with train company teams about who should fix a problem and who should pay – causing plenty of unnecessary delays.
Now, the government has said it will change things to create joint teams – with one boss, public and private working together, to solve problems on the line.
The biggest experiment will be on the East Coast mainline, where Virgin-Stagecoach is struggling to make money and has become frustrated with the physical state of the line.
A new public-private partnership is being set up to run the train and tracks together.
But we have no idea yet how it will work, who will pay for things, or when passengers might feel the benefit.
---
But Labour has called the ideas "un-funded proposals", with shadow transport secretary Andy McDonald describing the plans as "unambitious".
"The Tories' record is of delayed, downgraded and cancelled investment, huge disparities in regional transport spending and soaring fares that are pricing passengers off the railway," he said.
Mick Cash, general secretary of the RMT union, said it was a "scandal" that the plans did not consider publicly-owned railways.
He said: "The planned breaking up of Great Western and GTR is a massive admission of failure by the government but still they rule out the highly popular option of public ownership."
Mick Whelan, general secretary of the train drivers' union Aslef, said the union would be "pleased to see the lines cut by Beeching restored".
However, he said Mr Grayling's new plans would not boost jobs and housing, asking: "Where is the bold strategic vision for rail – and integrated transport links – in this country?"
Councils and business have also been asked to submit proposals for new lines.
However, the government has no plans to make new money available to fund any such suggestions, the BBC's transport correspondent Richard Westcott said.
---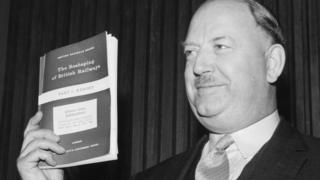 Who was Dr Beeching?
Richard Beeching's brief as chairman of the British Transport Commission was simple: "Make the railways pay."
British Rail was losing £140m a year when Dr Beeching took over the commission. His solution, announced on 27 March 1963, was equally straightforward – massive cuts.
The Conservative government welcomed the report, but thousands of people – many in remote rural areas – were horrified they would lose their local branch lines.
Opposition from the pressure groups failed and during the 1960s "Beeching's Axe" fell on 2,128 stations and more than 67,000 British Rail jobs.
---
Have you benefited from a railway line reopening? What do you think about these proposals? Email haveyoursay@bbc.co.uk with your stories.
Please include a contact number if you are willing to speak to a BBC journalist. You can also contact us in the following ways:
WhatsApp: +44 7525 900971
Tweet: @BBC_HaveYourSay
Send an SMS or MMS to 61124 or +44 7624 800 100