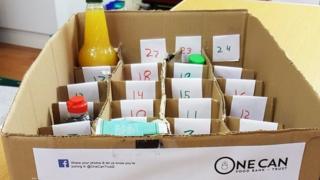 December has arrived and in homes across the country, cardboard doors will be opened in the traditional countdown to Christmas.
But just as some look to luxury, others are choosing to reverse things this advent – with a calendar which gives back.
The idea is simple; instead of opening the door to a chocolate or picture, you do the giving.
People put aside a donation each day of advent, so they have a collection of goods ready to drop off in time for Christmas.
Many choose to dedicate their calendar to food bank charities, like One Can Trust in High Wycombe, Buckinghamshire.
The charity said it had been overwhelmed with offers following the success of last year, when more than 200 calendars were donated.
"Individuals, companies, other charities, scouting and guiding groups, even people who live along the same street, are coming together to collect for us," said trustee Heather Stanley.
Some people start their collections early – to make sure donations can be distributed ahead of Christmas – and have been sharing their progress on social media.
And it's not just edible donations – people have been collecting toys, clothes, toiletries and anything else someone in a less fortunate position might need.
16-year payback
Parenting blogger Jaime Oliver is collecting for her reverse advent for the second year running.
Last year, the mother of three from Nottinghamshire gathered for a local food bank. But she has decided to choose a cause even closer to home this Christmas.
It was "gutting" to see no reverse advent calendars for Women's Aid, so she decided to do on e herself.
She is collecting items for the same refuge that took her in when she was 21 and had a six-month-old baby.
"This year I felt in a really great place with my own family. But it was me, there, 16 years ago," she said.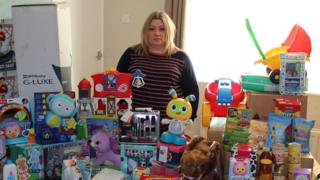 "I had nothing. A stranger bought my daughter's first Christmas present and I will always be eternally grateful. It made me feel like I wasn't quite so alone."
Jaime and her daughter stayed at the refuge for eight months.
"At Christmas, everything is so family focused. It can be incredibly isolating," she said.
"Many will arrive with not much more than a handbag. They then have this transition period in the refuge when they need to start to rebuild."
Reviewing products for her blog means Jaime works with lots of brands she can appeal to directly for items like pushchairs, toys and baby toiletries.
She has also allocated things for herself to donate each day, from second-hand clothes to nappies and food essentials.
She hopes she can inspire others to start a calendar too.
"It doesn't have to cost anything," she said. "Second hand items are equally treasured."

You may also like:

Changing Lives – a charity based in north-east England that supports vulnerable people across the UK – is doing a reverse Advent calendar campaign for the first time this year.
Communications manager Libby Marks, said the response so far had been "humbling".
"They are small acts of generosity that make a huge difference," she said.
Many of the donations will become gifts for clients to give to their families, so no children "miss out on presents on Christmas Day".
Other items, like clothing and toiletries, will be going directly to people in need, to help their day-to-day lives, Libby added.

How to make your own reverse calendar
Pick a charity, organisation or food bank you would like to donate to
Contact the organisation to find out what items they are most in need of and when you should drop them off
Put aside a box and – depending how creative you are – decorate it or add numbers
Get collecting and let the countdown begin!