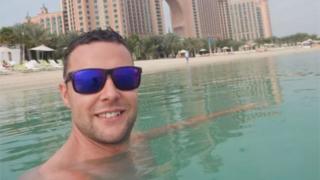 A Scot is facing a three-year prison sentence in Dubai for apparently putting his hand on a guy in a bar.
Jamie Harron, who is 27 and through Stirling, said he was endeavoring to avoid spilling his drink within the crowded Rock Bottom Bar when the occurrence happened.
He had been locked up for five days and it has now been prevented from departing the city in order to attend court.
The Foreign and Earth Office said it was providing consular assistance on the matter.
The arrest follows the case of the Edinburgh man who was also held in Dubai after attempting to swap a fake £ 20.
William Barclay, from Edinburgh, returned home on Friday right after being held in a Dubai jail for 3 days during a family holiday .
'Quite outrageous'
The campaign group Held in Dubai said Mr Harron was arrested for public indecency after touching the man on his cool.
Mr Harron, which works as an electrician in Afghanistan and was on a two-day stopover in the United Arab Emirates, has been said to have since lost his work and spent more than £ thirty, 000 in expenses and lawful fees, since the incident on fifteen July.
Radha Stirling, chief executive of Detained in Dubai, said: "It is quite outrageous which he has been held in the country for such a long time already.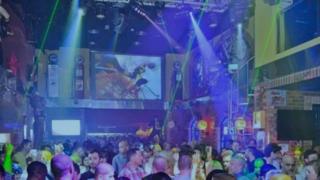 "This is another sort of how vulnerable tourists are in order to arrest and detention in Dubai and at how drawn-out and disorganised legal proceedings are. "
The organisation claims it had been only after Mr Harron great friend sat at a table the man who had been touched seemed irritated.
Police arrived at the particular scene "20 to 30" a few minutes later and arrested Mr Harron, according to his representatives.
'Present himself'
The charges he faces regarding the the incident are said to be two fold – drinking alcohol and public indecency.
Mr Harron had been reportedly locked up for five times in Al Barsha prison, prior to being released on bail and getting his passport confiscated.
Ms Stirling added that carrying out a conversation with Mr Harron, it had been clear that he was under "immense pressure and stress".
She said: "He was seeking to appear in court this Sunday, however the court moved the date with out telling him or his attorney.
"This led to the sentence of 30 days' imprisonment for failing to present himself in the hearing. "
The Foreign and Commonwealth Office speaker said: "We have been in contact with the British man following his detain in Dubai in July. We have been providing consular assistance. "