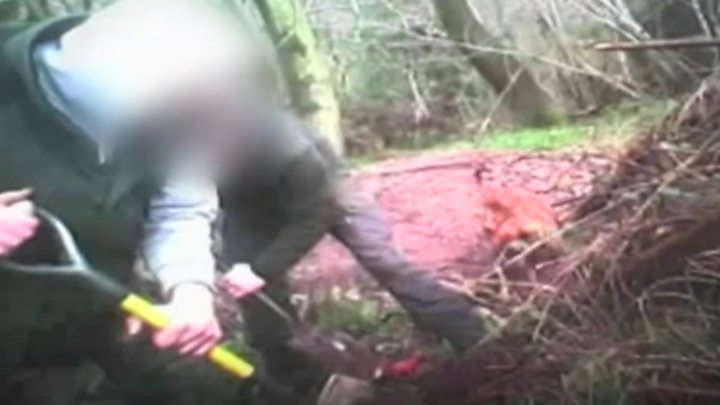 A secret network of badger baiters has been exposed by an undercover BBC Wales investigation.
Secret filming shows two men pulling a cub from the ground and setting dogs on it before killing it with a spade.
Other members of the network, including a convicted badger baiter banned from keeping dogs, were filmed illegally digging a sett in Pembrokeshire.
RSPCA special operations unit head Ian Briggs said there was "a particular problem" with badger baiting in Wales.
He said this was because of "remoteness and the ease of which they [badger baiters] can carry out their activities".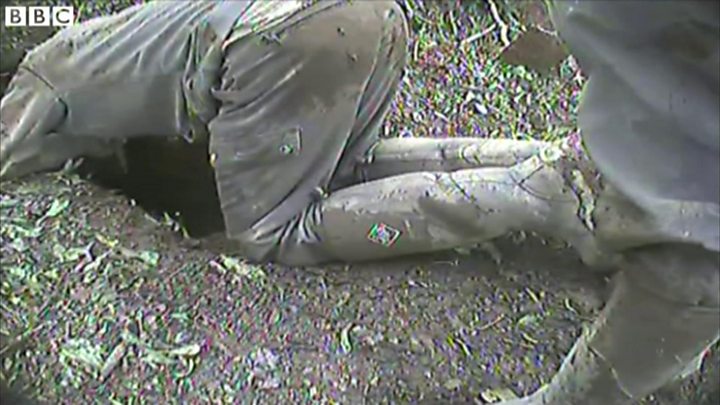 BBC Wales Investigates infiltrated two gangs within a six-month investigation into the violent and brutal blood sport.
It is the first time in more than 30 years a badger baiting group has been infiltrated in this way.
It discovered Wales and parts of the English borders were hotspots and uncovered a network of illegal hunters across south Wales.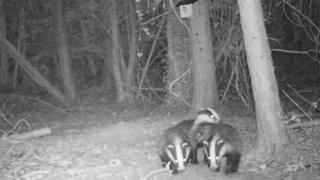 It also revealed the brutal reality of how wild animals – and the dogs used to kill them – were treated.
One gang member claimed he shot his dogs when they did not perform as he wanted.
Vet Mike Jessop, an expert witness for dozens of animal welfare prosecutions, said: "The dog is just another working tool. They're just thrown down holes, they've got to do their job. If they're not doing their job they become a useless commodity.
"This is the classic blood sport activity that we all thought had been brought under some sort of control – this is showing clearly it hasn't. "
The Protection of Badgers Act 1992 bans people from injuring, killing or taking the animal or disturbing their setts.
But police forces are not obliged to report incidents of badger baiting investigations – or outcomes – to the Home Office, meaning the scale of the crime is unknown.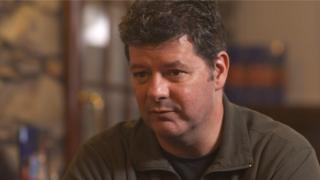 The Ministry of Justice said 13 people across England and Wales were convicted in 2016 – four were in Wales.
But information compiled by charities suggested there were 18 reports of badger baiting in Wales over 17 months ending in 2017 and four reports of dug badger setts.
Labour's shadow environment secretary, Sue Hayman, said: "If we're going to genuinely tackle something we need to know the extent of the problem and the only way we're going to properly know the extent of the problem is to record it effectively. "
Mr Briggs said prosecutions relied on the RSPCA getting "information from friends, family, neighbours, who are aware of what these people are doing".
The investigation also uncovered a convicted badger baiter boasting on a closed Facebook group dedicated to Patterdale terriers about digs he had recently been on and puppies he was breeding.
The man who claims he shot his dog denies all allegations including hunting for badgers.
A spokesperson for RSPCA Cymru said: "We have requested all material from the BBC in relation to their investigations related to alleged illegal badger baiting activity in Wales – and are awaiting this evidence.
"Badger baiting is a barbaric activity – and we will investigate thoroughly any evidence passed onto us which suggest crimes have been committed against these animals. "
Exposed: The Secret World of Badger Baiters is on BBC One Wales at 22: 35 BST on Tuesday 22 May and will also be available on BBC iPlayer