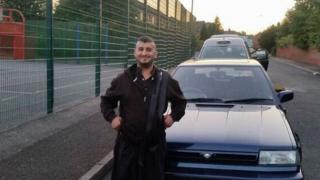 A taxi driver killed in a "horrific" six-car crash in Birmingham was on his last job of the night, his brother has said.
Imtiaz Mohammed, 33, who had six children aged under 15, was one of six people killed in the accident in Edgbaston in the early hours of Sunday.
His two passengers were among those who died.
Two men in another car – Mohammed Fasha, 30, and Taugeer Hussain, 26 – died at the scene.
The men, from Small Heath, Birmingham, and a 25-year-old man, died when they were thrown from the Audi they were travelling in.
A 22-year-old man, who was also in the car, is in a serious condition at Birmingham's Queen Elizabeth Hospital.
Crash investigators are trying to piece together what caused the pile-up, on Belgrave Middleway.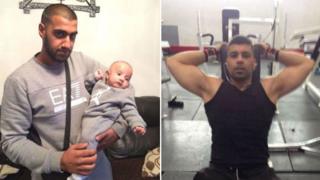 The family of Mr Mohammed, who had five daughters and one son, said his death came the day before his daughter's fourth birthday.
Midlands Live: Birmingham crash latest
His father, Ihktiar, said the "very close" family had been devastated by the loss and he had "woken up crying".
He said his grandchildren had gone to school as usual, adding that the younger of the children have not yet been told of their father's death.
He said: "I am very sad, this is a tragedy for everyone – for my family and also for the other families as well.
"It is a sad day and a sad time."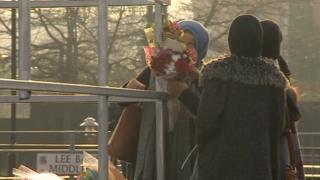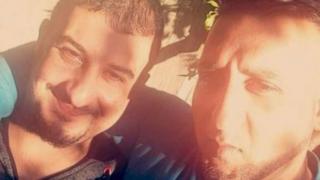 He said his "heart sank" when police knocked on his door at 05:00 GMT and he "knew there was something wrong".
"I thought to myself, 'which of my sons is hurt'," he said.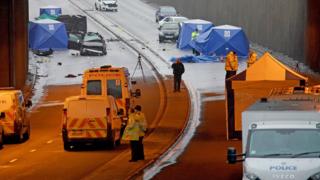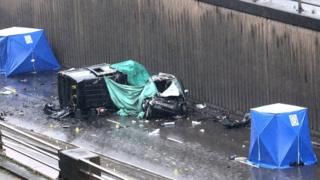 The victim's younger brother, Noorshad Mohammed, said Imtiaz called his wife just before the crash, to tell her he was on his way home.
The 32-year-old said: "It was his last job of the night. That was the last time she spoke to him."
The taxi driver's employer, Castle Cars, said it was "shocked and devastated" to learn of Mr Mohammed's death.
'Greatly missed'
Spokeswoman Debbie Ormsby said: "Imtiaz was a wonderful young hard-working family man.
"He was loved and respected by all who worked with him and he will be greatly missed.
"Our thoughts and prayers are with his family and all the other families affected by this tragedy."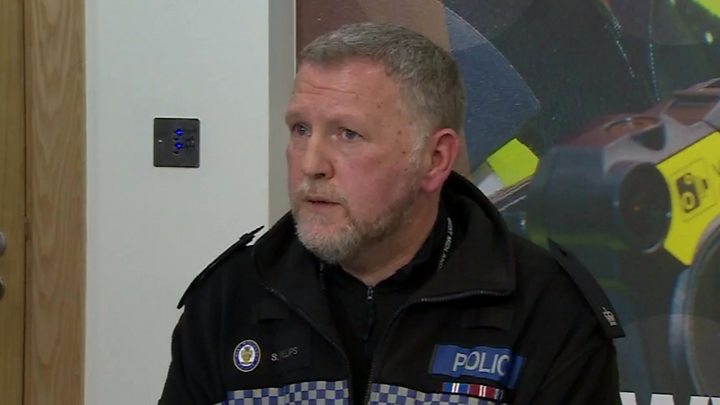 A 43-year-old female passenger in Mr Mohammed's taxi was confirmed dead at the scene of the crash, which happened on the underpass where Belgrave and Lee Bank Middleway meet.
Her male companion, 42, died at the Queen Elizabeth Hospital.
The first car in the crash sustained extensive damage but, "astonishingly", the man and woman inside managed to get out with relatively minor injuries, an ambulance service spokesman said.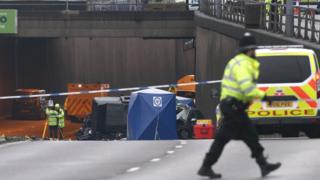 Three other cars were caught up in the crash and suffered minor damage trying to avoid it.
Michelle Brotherton, from the ambulance service, said crews had dealt with 13 patients.
As well as those who died and the man in a critical condition, four people were taken to Heartlands Hospital where their condition is believed to be non-life threatening.
A further two patients were "discharged on scene".
West Midlands Police said all victims were from the Birmingham area and specialist officers were supporting their families.
Police said they were following various lines of investigation including the condition of the road when the crash happened.
At a press conference Supt Sean Phillips said it was "too early" to speculate on the cause of the accident.
"It will take some time to unpick and just understand exactly what's happened. It would be unfair for me to speculate at this time," he said.
He said the road had been gritted at 17:00 GMT on Saturday.
Sam Lad, who lives in a flat overlooking the crash site, said people regularly used the road for racing.
He said: "Lots of young people use that road as a competition, I see lots of people speeding.
"There are speed cameras on that road but not near that area."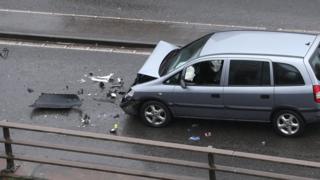 The stretch of road from Islington Row to Bristol Street was closed while officers investigate.
The road has two lanes either side and a 40mph speed limit.
Another resident who lives opposite said: "This road is really dangerous. Young kids like to challenge themselves and go really fast.
"I can't believe six people have died, and so close to Christmas and New Year."
An online fundraising page been set up for the families of those killed, through the Lord Mayor's Charity Appeal. It has raised over £3,700.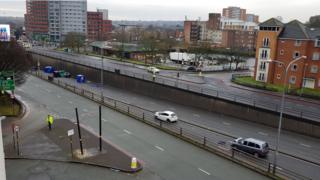 Area Commander Jason Campbell, of West Midlands Fire Service, said the crash site was "spread over some distance".
West Midlands Police described dealing with the aftermath of the crash as "very difficult and upsetting".
A senior officer criticised the "lack of humanity" of people who took photographs and filmed at the scene.
Chief Inspector Stuart Bill said it was "disappointing" that people chose to "disrupt" emergency services rather than help.
Sergeant Alan Hands, from the force's Collision Investigation Unit, said: "We are still trying to establish exactly what happened and our thoughts remain with the families who have lost-loved ones.
"We aware of distressing images of the scene circulating on social media and we would ask the public to not share them and instead pass any footage to us to assist our investigation."
Any witnesses have been asked to contact West Midlands Police.