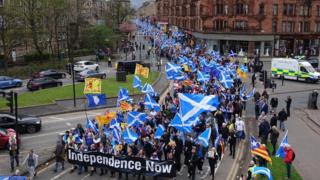 Tens of thousands of Scottish independence supporters have got marched through Glasgow.
The organisers of the annual All Below One Banner event said these people hoped about 40, 000 individuals would attend, but said earlier estimates were up to 80, 1000.
The march remaining Kelvingrove Park at 11: thirty and ended with a rally upon Glasgow Green.
The event is one of a series getting held across Scotland by Many Under One Banner.
They estimated 20, 1000 people took part in final year's Glasgow march.
Police Scotland said there were approximately 35, 000 at Saturday's procession.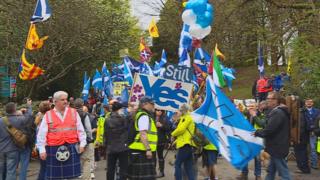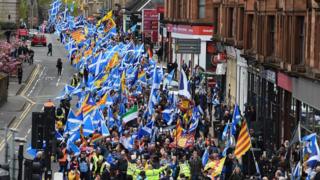 All Under One particular Banner describes itself as a "pro-independence organisation whose core aim would be to march at regular intervals till Scotland is free" and states it is open to "everyone who desires to reside in an independent nation".
Co-ordinator Neil Mackay said this individual was confident that a second referendum would happen soon.
"We are expecting up to 40, 000 consumers on the streets of Glasgow, then we have a political rally on Glasgow Green, " he mentioned.
"The purpose would be to grow the movement, to galvanise us and bring more individuals on board, and to give as good the representation of the movement as we may. "
"As significantly as we're all concerned there will be one more independence referendum, and it'll be just before 2021 when Brexit finally occurs. We're ready, and we'll end up being doing this every year all over Scotland. inch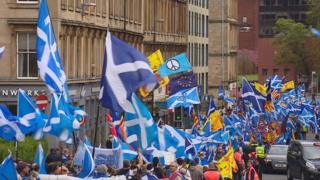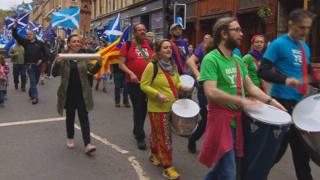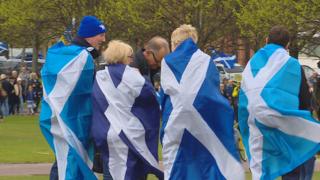 Mr Mackay said individuals had travelled from all over Scotland and further afield for the march.
He added: "People are also coming from England, we've got a solid English Scots for Yes dependant on the march today which is excellent.
"There's the delegation from Germany, and through people all around the world who have experienced flights and hotels booked for years. "
The event furthermore featured music and speeches, along with marchers urged to "bring your own flags, banners, pipes and drums".