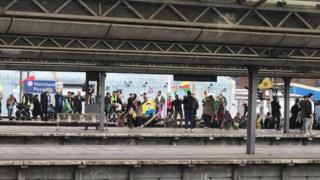 Manchester Piccadilly railway station offers reopened after about 100 protesters stormed the railway lines.
Campaigners blocked the paths and some tried to climb overhead series equipment, National Rail said.
Crowds of people thought to be in opposition to Turkey's war with Syrian Kurds held banners which read "stop Turkey from helping ISIS terrorists".
The train station was closed for about three hrs and caused disruption and lengthy delays for some travellers.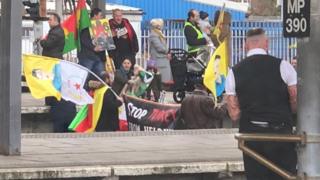 Supt Tag Cleland, of British Transport Law enforcement (BTP), said: "While we value and respect the right to tranquil protest, when this compromises the particular safety of the public and the protesters themselves, any offenders will bring in the full investigative resources of BTP.
"Those involved in this particular afternoon's incident will be subject to intensive investigation with a view to police arrest and prosecution.
"We will continue to maintain a law enforcement presence at this station and at some other stations across the rail network. inch
Officers were known as to reports 100 people were protesting at Piccadilly station shortly after thirteen: 00 GMT.
In the meantime, Pro-Kurdish protesters demonstrating about Turkey's military offensive in Afrin, Syria, have clashed with Turks plus German police at Duesseldorf airport terminal, leaving several people injured, mentioned Agence France Presse.
Police used pepper spray towards some demonstrators.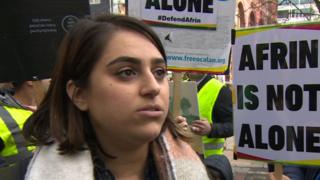 One particular activist in Manchester told the particular BBC the protest was within the "British government's silence" over the Afrin region.
The lady said: "They haven't defended people of Afrin. Thousands of people are getting killed and the Turkish troops are becoming closer and closer to the city center. "
Another protester apologised for people being delayed yet said "innocent people are being killed".
Amaya Kourtney messaged the "ridiculous" protests had led to a lengthy delay to her Leeds in order to Liverpool train and had "ruined Moms Day".
One more passenger on Twitter was similarly frustrated at the disruption to providers.
1 passenger tweeted she was trapped on a packed train at Piccadilly station "going nowhere" when the train line protest started.
She said protesters were supporting their babies and taking pictures of each other on the tracks.
Sophy Colbert said on Tweets there was "around one hundred people on the tracks" and it has been "getting a bit heated".
She was handed a booklet entitled "Stop Turkey's war offences and crime against humanity".
The particular closure caused disruption elsewhere, along with Russ Neil tweeting: "Stockport rammed now with people attempting to get back to Euston. "
The Leeds to Manchester Airport service seemed to be affected.
BBC Northern presenter Luxmy Gopalakrishnan tweeted : "People queuing for the next available substitute bus at Stalybridge station right after Manchester Airport train terminated right here due to protesters on rails from Piccadilly. "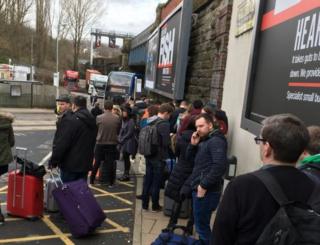 And Mel Blockley tweeted she was stuck in Manchester Oxford Street station looking to get home to see her son.