U.S. President Donald Trump bonded with Rodrigo Duterte over a common dislike for Barack Obama, whose criticism of the Philippine leader's deadly war on drugs last year spurred a rift between the allies.
"The relationship appears to be very warm and very friendly," Duterte spokesman Harry Roque told reporters after they met in Manila on Monday. "They've been very candid in their dealings, and it's very apparent that both of them have a person who they consider as not their best friend. They have similar feelings toward former U.S. President Barack Obama."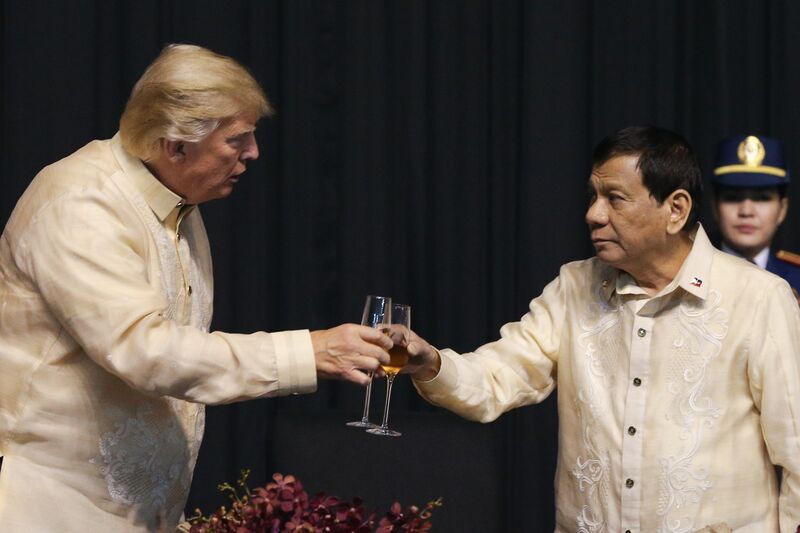 The White House didn't immediately respond to a question on whether the leaders discussed Obama.
Ahead of the meeting, Trump said he had a "great relationship" with Duterte and called the regional meetings in Manila "very successful." They both ignored shouted questions about alleged abuses carried out under Duterte's deadly battle against narcotics.
The bonhomie between the leaders stands in contrast to a year ago, when Duterte cursed out Obama for criticizing his war on drugs that has left thousands dead. Duterte subsequently pivoted toward China, de-escalating tensions with Beijing over their competing South China Sea claims and winning $24 billion worth of Chinese investment and loans.
Trump on Monday also held a three-way meeting with Australian Prime Minister Malcolm Turnbull and Japanese Prime Minister Shinzo Abe, both U.S. allies, and separately met with Indian Prime Minister Narendra Modi. Trump said he made "big progress" on trade during his 11-day Asia trip, and would make a statement on North Korea and trade when he returns to the U.S.
Yet his encounter with Duterte captured the spotlight. Last year, the Philippine leader questioned the U.S. alliance and told Obama he could "go to hell" after the former U.S. president called for his drugs war to be fought "in a way that's consistent with basic international norms."
On Monday, Duterte again paid respect to a mutual defense treaty that has underpinned the U.S.'s Asia-Pacific strategy since World War II.
"We are your ally," Duterte said to Trump. "We are an important ally."
U.S. Press Secretary Sarah Huckabee Sanders told reporters that human rights came up briefly in the context of Duterte's fight against illegal drugs, adding that the conversation also focused on the Islamic State and trade.
But Duterte's spokesman disputed that account, adding that Trump "appeared sympathetic" when the Philippine president explained about the country's drug problems during their 40-minute meeting.
Love Song
"There was no mention of human rights," Roque told reporters. "There was no mention of extrajudicial killings. There was only a rather lengthy discussion about the Philippine war on drugs with President Duterte doing most of the explaining."
Trump also asked why U.S. cars face higher tariffs than Japanese automobiles, Roque said, and said he would study a potential bilateral trade deal with the Philippines. He added that the U.S. administration seemed most interested in trade.
The tough-talking Duterte, famed for his profanity-riddled outbursts, has spoken warmly of Trump, saying recently that their mouths move "in the same cadence." At a gala dinner on Sunday night, Duterte sang a Filipino love song "upon the orders of the commander-in-chief of the United States," according to a video posted on Twitter by a Philippine government official.
While the meeting between Trump and Duterte wouldn't solve all the problems between the nations, it will "move our relationship forward," Foreign Secretary Alan Peter Cayetano told reporters on Sunday ahead of the meeting.
"There is no doubt that there were some ill feelings, there were some hills and valleys in our relationship with the U.S., especially at the latter end of the Obama administration," Cayetano said. "But it's been repaired and strengthened by President Trump."