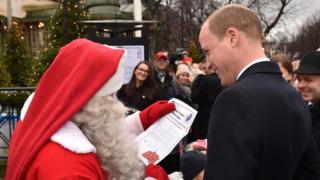 Young Knight in shining armor George only wants one thing designed for Christmas this year – a gadget police car.
The particular request was passed on to Santa claus by the prince's father, the Fight it out of Cambridge, during a trip to Finland's capital city Helsinki.
The Duke met Lapland's most well-known resident at a Christmas market, in which he produced the handwritten note.
"He hasn't written straight down many requests, so I think one particular request is probably OK, " he or she said.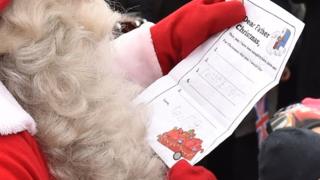 The shape began with the printed sentence: "Dear Father Christmas this year I have been naughty/nice. inch George had circled 'nice'.
His father backed your pet up, telling Santa that George had "been a nice boy".
The form allows for five choices but the single-minded youngster offered "police car" – in big, apparent writing – as his only option.
The four-year-old prince also signed his name at the end of the form.
As the pregnant Duchess of Cambridge continues to be at home in London's Kensington Structure, the Duke is on a solitary visit to Finland where he is planned to meet former US vice leader Al Gore and Prince Daniel of Sweden at a technology celebration.
He will also go to a comprehensive school to see the ways in which the particular Finnish education system is focusing on psychological well-being, one of the prince's core advertising campaign areas.