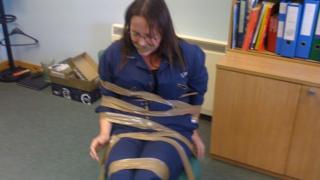 A woman exactly who complained of a racist and misogynistic culture in a Scottish government company claims she was taped to some chair and gagged by 2 male colleagues as a warning to help keep quiet.
DeeAnn Fitzpatrick said the restraint took place among years of bullying and harassment from Marine Scotland's Scrabster office.
The fisheries officer has brought her case to an employment tribunal.
BBC Scotland has obtained a photo of the restraining incident.
It was used by one of the men allegedly responsible.
Ongoing tribunal
Ms Fitzpatrick, the Canadian national, said it occurred in 2010 as a result of her blowing the particular whistle on a threatening and misogynistic culture at Marine Scotland's workplace in Scrabster, on the far northern Caithness coast.
In evidence to her ongoing tribunal, she said that one of the men included, fisheries officer Reid Anderson, informed her: "This is what you get when you talk out against the boys. "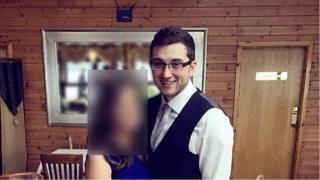 The Scottish government is responsible for Sea Scotland, which is the watchdog for your fisheries and aquaculture industries within Scotland.
It stated that it "does not comment on inner staffing matters".
Rhoda Grant, a Labour MSP for the Highlands and Islands, continues to be supporting 49-year-old Ms Fitzpatrick considering that 2010, when a concerned colleague from the fisheries officer alerted the politician to the alleged treatment.
Seeing the photograph for the first time, Ms Grant told the particular BBC: "It's horrific. I'm type of speechless. "
The MSP said she have been told it had happened yet seeing the photo seemed to allow it to be "10 times worse".
Ms Grant said: "She's already been subject to a long period of harassment, terrible behaviour towards her.
"In some of my negotiations with DeeAnn it's very clear there is a culture in that office that individuals can get away with what they say and exactly what they do.
"It appears to me that it's out of control. "
'Boys just getting boys'
Ms Offer said the behaviour had been "unacceptable" eight years ago but the recent #Me As well movement , highlighting abuse towards women, had made people discover there should be a zero tolerance technique.
The BBC offers seen emails showing Ms Fitzpatrick tried to raise the alleged attack along with one of her managers soon after this happened, but it appears to have not already been taken seriously.
The particular manager said he would have "a word" with the men involved — Reid Anderson and Jody Paske.
He added: "I am sure they meant no damage and that was the boys just getting boys. "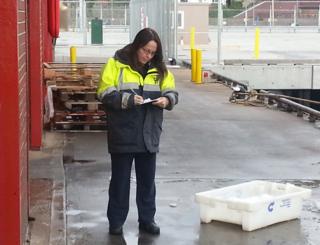 Mister Anderson, who the BBC knows remains employed by Marine Scotland and it has recently been promoted, did not respond to the particular allegations, although civil servants are often unable to comment without government acceptance.
Mr Paske, who no longer works at Ocean Scotland, told the BBC which the allegations were "lies".
He said: "These are usually false allegations. I can't remember the big event you mention, but if it do happen, it would have been office badinage, persiflage. Just a craic. Certainly nothing related to abuse. "
We asked the Scottish authorities to waive the civil service program code in order to allow Microsoft Fitzpatrick to speak about her encounters but permission was not given.
A spokeswoman said: "The Scottish government has clear requirements of behaviour which apply to just about all staff.
"Any concerns raised by staff are usually taken seriously and investigated fully. inch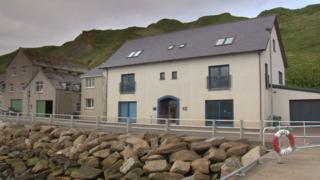 In evidence to an work tribunal against the Scottish government, Microsoft Fitzpatrick claimed that over a period of nearly 10 years she had been subjected to conduct including:
being laughed at about having a miscarriage
being told specific staff at Marine Scotland did not want "a woman, especially the foreign woman"
extreme racist vocabulary
threatening behaviour towards female employees, who were sometimes referred to as prostitutes
The particular employment tribunal is unable to consider the constraint incident as it occurred more than 3 years before the case was brought.
BBC Scotland has also noticed emails from the Scottish government's HUMAN RESOURCES department threatening disciplinary action towards Ms Fitzpatrick while she had been at her father's deathbed within Canada.
The particular correspondence shows that in November 2016, Ms Fitzpatrick was told her dad had suddenly become ill, together days to live.
She told her line manager this particular by text message, and that she has been on her way to the airport in order to catch an emergency flight.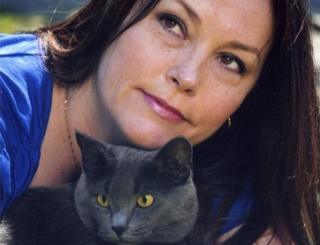 The letter from the government's HUMAN RESOURCES department, sent to Ms Fitzpatrick simply by email, acknowledged her father's disease and that she had indeed educated her line manager.
But it said: "You are required to get in touch with me as soon as you receive this notice to explain the reason(s) for your lack. Failure to do so may lead to disciplinary actions. "
Microsoft Fitzpatrick's sister-in-law Sherry Fitzpatrick informed the BBC that the photograph from the restraint incident needs to be shown.
She said: "We had been horrified. We were sickened. We be worried about what this has done to her.
Ms Fitzpatrick's sister-in-law said the Canadian national's house had been in Scotland for quarter of a century.
"She's not quitting and now her family is at the rear of her, and we're not quitting until someone is made accountable for their particular actions, " she said.
Internal disciplinary
Since her dad's death in November 2016, Microsoft Fitzpatrick has been signed off from function.
It is ambiguous whether her alleged attackers actually faced disciplinary action but Microsoft Fitzpatrick herself faces a disciplinary hearing from her employers in late May.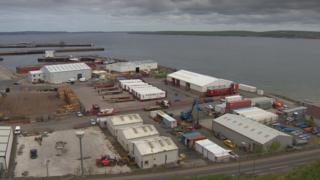 The girl internal disciplinary cites charges to be "overzealous" in her job plus being rude to clients.
Ms Fitzpatrick has informed supporters she believes it has been made to get rid of her.
Highlands and Islands MSP Microsoft Grant said: "They [Ms Fitzpatrick's employers] just won't listen. Therefore their way of resolving it is actually having the woman out of the workplace, getting the girl out of the man's job. "
She called on Initial Minister Nicola Sturgeon and Atmosphere Secretary Roseanna Cunningham to "get a grip of it" instead of allow women to be treated in this particular "totally unacceptable" way.
A Scottish government spokeswoman stated Ms Cunningham would not be made readily available for interview.
She additional that in addition to the ongoing employment tribunal there were also "internal procedures" below way, and it would be "wrong in order to pre-empt the outcome".
The spokeswoman said these types of processes provided the "proper avenues" for Ms Fitzpatrick to lead her position.