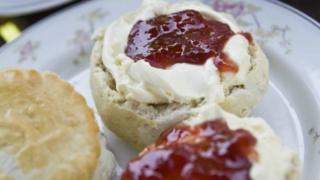 The Mother's Day cream tea advertisement has sparked fury for depicting a scone with the jam dolloped on the cream.
The particular National Trust's Lanhydrock in Bodmin angered Cornish locals by depicting the delicacy in the rival Devon tradition on a Facebook post.
Outraged locals said these were going to cancel memberships over the mistake.
The Trust apologised for the "heinous mistake", adding personnel will wear #JamFirst badges to aid "a proper cream tea".
About 300 individuals complained on the post, with some declaring it was "horrifying" and "made all of them feel sick".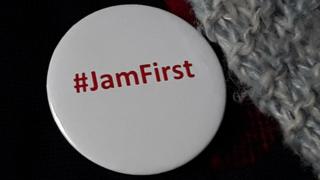 The employee responsible for the post "had already been reprimanded and marched back on the Tamar" to neighbouring county Devon, the Trust said.
Richard Levy, Lanhydrock's Visitor Encounter manager, said it was a "genuine mistake" and the staff member was "meekly crawling around trying to avoid the storm" before returning to work on Monday.
Colin Leggo, from Tweets capmaign @JamFirst, said: "It's about identity, it's like the pasty too. If people get something wrong that you are so connected with… We love just how passionate people can be about it, however the reaction did seem full on. inch
Stevie Selvey published: "Wow… Are people really obtaining worked up about a picture of a scone just cause it had lotion on first? How pathetic. inch
Mr Levy told the particular BBC he decided to get #JamFirst badges especially made after publishing: "There's no truth in the rumour that we're renaming the property Jamhydrock".
Emma Phillips fearlessly responded "#creamfirstandproud".
Duncan Biscotto posted: "Don't apologise, this still tastes the same – you can find worse atrocities in the world. "