• A gunman opened fire in the Capital Gazette newsroom in Annapolis, Maryland.
• An official said there were five fatalities and two other people were injured.
• A white male in his late 30s, identified in media reports as Jarrod Ramos, has been taken into custody.
• The suspect reportedly mutilated his fingers to avoid identification, but authorities have identified him using facial recognition technology.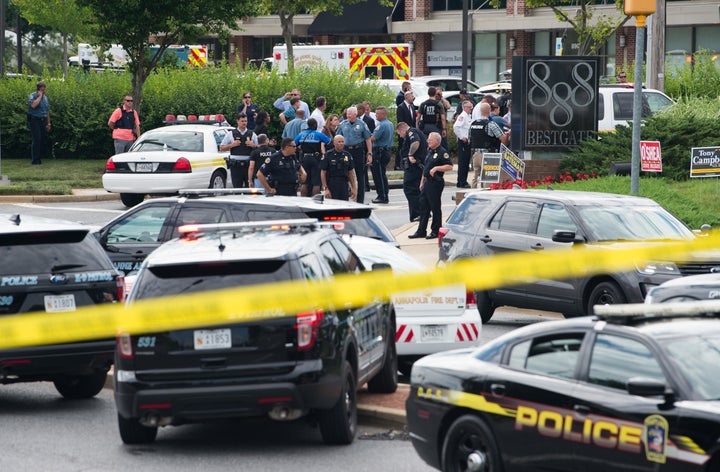 Five people died and two were injured in a "targeted attack" on the Capital Gazette newsroom in Annapolis, Maryland, on Thursday, according to city officials.
The suspect has been identified in various media reports as Jarrod Ramos, 38, a resident of Laurel, Maryland. Court records show that Ramos has been charged with five counts of first-degree murder, and will have a bail hearing Friday morning. The Capital Gazette confirmed on Twitter that Ramos had filed a defamation lawsuit against the paper and a columnist in 2012.
Bill Krampf, deputy chief of the Anne Arundel County Police Department, declined to name the suspect during a news briefing on Thursday but said he was a white male in his late 30s. Krampf said the man used a shotgun and "looked for his victims as he walked through" the newsroom.
Authorities identified the victims as Wendi Winters, Rebecca Smith, Robert Hiaasen, Gerald Fischman and John McNamara, noting that all worked in some capacity for the Capital Gazette.
Krampf noted that the news outlet had received social media threats that indicated violence "as early as today," although investigators were still determining who sent them.
"This person was prepared today to come in, this person was prepared to shoot people," Krampf said. "His intent was to cause harm, and as I stated before, the investigative part of this is going to be thorough and it's going to take some time."
He continued: "The Capital newspaper is our local newspaper. We interact with the Capital newspaper daily. We have friends at the Capital newspaper, we speak with these men and women on a daily basis. We're here. We're invested. We're going to get this investigation right."
This person was prepared today to come in, this person was prepared to shoot people. His intent was to cause harm. Bill Krampf, deputy chief of the Anne Arundel County Police Department
Authorities said officers were at the scene within approximately a minute of receiving 911 calls and that they evacuated 170 people from the building. They quickly took the suspect into custody, although Anne Arundel County Executive Steve Schuh said the man "has not been very forthcoming" about his motive, according to The Associated Press.
Krampf noted earlier Thursday that officials had discovered what they "thought may have been an explosive device that has been taken care of" at the scene of the crime. He later clarified that they'd found a bag containing smoke grenades.
Lisa Clough, director of media relations for the University of Maryland Medical Center, confirmed to HuffPost that one patient from the shooting was at their facility but could not confirm the type of wound or condition of the patient. Authorities described the injuries as superficial wounds, not gunshots, and said they may have been caused by broken glass in the newsroom.
"A single shooter shot multiple people at my office, some of whom are dead," tweeted Phil Davis, a reporter at the paper. "There is nothing more terrifying than hearing multiple people get shot while you're under your desk and then hear the gunman reload."
Davis described the shooter as firing through the building's glass door.
Photojournalist Joshua McKerrow, who identifies himself as working for The Baltimore Sun and Capital Gazette, tweeted photos from the scene that showed a heavy law enforcement presence outside.
A Twitter user who identifies himself as an intern at the Capital Gazette tweeted out a request for help around 2:45 p.m. local time.
Baltimore Police responded to the newsroom of The Baltimore Sun ― which owns the chain of affiliated community newspapers in the Capital Gazette newsroom — as a precaution, but have not reported finding anything.
The New York City Police Department also sent officers to major New York media outlets, including HuffPost, following the attack.
"These deployments are not based on specific threat information, but rather out of an abundance of caution until we learn more about the suspect and motives behind the Maryland shooting," Deputy Commissioner of Intelligence and Counterterrorism John Miller said in a statement. "It has become a standard practice to shift resources strategically during active shooter or terrorist events."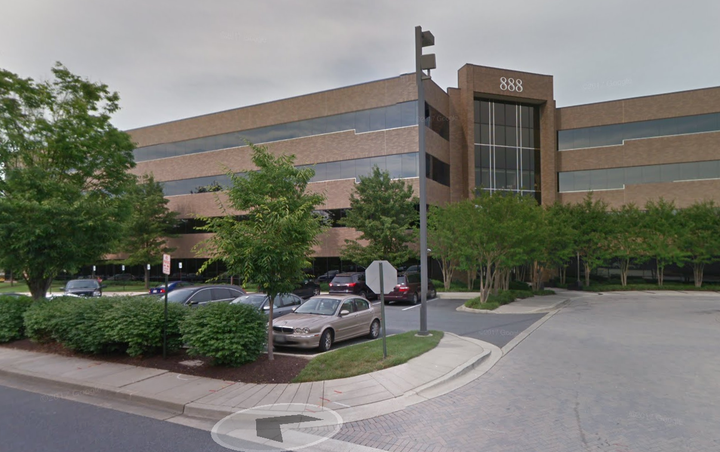 Jimmy DeButts, community news editor and metro columnist for the Capital Gazette, tweeted about the shooting Thursday afternoon, saying he was "numb."
"We keep doing more with less. We find ways to cover high school sports, breaking news, tax hikes, school budgets & local entertainment," he tweeted. "We are there in times of tragedy. We do our best to share the stories of people, those who make our community better. Please understand, we do all this to serve our community."
"We try to expose corruption," he continued. "We fight to get access to public records & bring to light the inner workings of government despite major hurdles put in our way. The reporters & editors put their all into finding the truth. That is our mission. Will always be."
Maryland Gov. Larry Hogan, responding to news of the shooting on Twitter, said he is "absolutely devastated to learn of this tragedy."
"The Capital Gazette is my hometown paper, and I have the greatest respect for the fine journalists, and all the men and women, who work there," Hogan said in a statement. "They serve each day to shine light on the world around us so that we might see with more clarity and greater understanding."
He continued: "There is no place in our society for this kind of hatred and violence, and the individual responsible for this horrendous crime must be prosecuted to the fullest extent of the law."
President Donald Trump tweeted he has been briefed on the shooting and his "thoughts and prayers are with the victims and their families."
"Thank you to all of the First Responders who are currently on the scene," he tweeted.
Maryland has some of the nation's most stringent gun laws. A 2013 law generally bars the sale of so-called assault weapons like the AR-15, the semi-automatic rifle used in many recent mass shootings. The state also restricts the sale of rifles or shotguns for buyers with a history of mental illness, violent behavior, criminal convictions or drug addictions. In April, Hogan banned bump stocks and expanded law enforcement's ability to confiscate guns from troubled individuals with a measure known as a "red flag" law. He also approved $5 million in funding for gun violence prevention programs.
See more photos of the scene below:
Hayley Miller, Jenna Amatulli, Michelle Lou, Lydia O'Connor, Sara Boboltz and Liza Hearon contributed reporting.

This is a developing story. Check back for updates.