Rapper 50 Cent put in his two cents on Terry Crews' Capitol Hill testimony about being sexually assaulted ― and it amounted to nothing but a cheap shot at the "Brooklyn Nine-Nine" actor.
The hip-hop performer's now-deleted Instagram post featured a photo of a shirtless Crews accompanied by the words, "I got raped. My wife just watched." Another picture showed Crews with a rose in his mouth next to the caption, "Gym time."
"LOL, What the fuck is going on out here man?" 50 Cent commented.
Crews spoke before the Senate Judiciary Committee on Tuesday in support of the Sexual Assault Survivors' Bill of Rights. He has accused talent agent Adam Venit of groping him at a party in 2016. Crews told the committee that he didn't physically fight back because resorting to violence could cost him his career ― and even his freedom.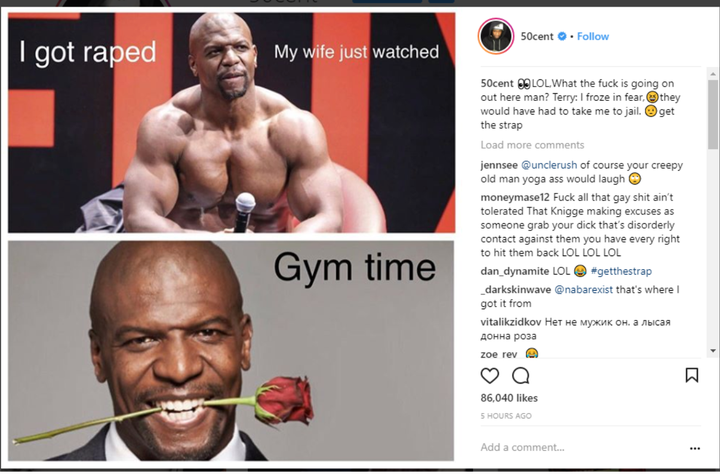 "As a black man in America, you only have a few shots at success," he said. "You only have a few chances to make yourself a viable member of the community. … I have seen many, many young black men who were provoked into violence, and they were in prison, or they were killed."
The powerfully built Crews, a former NFL player, shrugged off the rapper's Instagram scorn, telling TMZ, "I proved that size doesn't matter when it comes to sexual assault."
Representatives for 50 Cent did not immediately respond to a HuffPost request for comment.