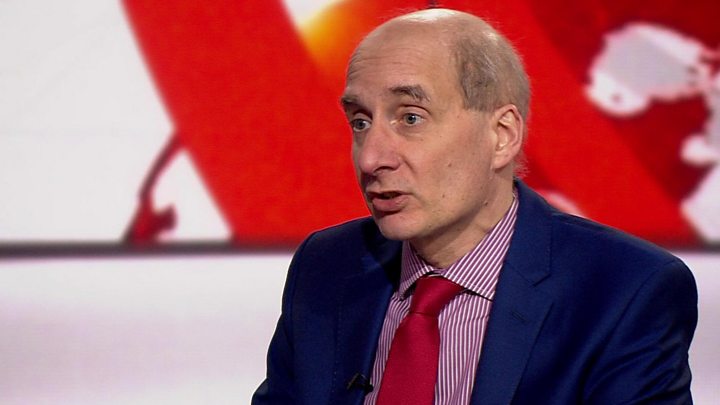 The government's infrastructure adviser has announced he is quitting his role, describing Brexit as a "populist and nationalist spasm".
Lord Adonis said Prime Minister Theresa May was "pursuing a course fraught with danger" over the UK's EU departure.
The ex-Labour minister is already a high-profile campaigner against Brexit.
A government source said: "He's been moving closer towards the exit door with each new onslaught he makes against Brexit."
The source added: "He's now walked through the door before he was pushed."
But Lord Adonis later insisted it had been his decision to leave, as his "differences with the government had become too great".
'Emergency exit'
Lord Adonis, who was transport secretary under Gordon Brown between 2009 and 2010, has chaired the National Infrastructure Commission since 2015.
The commission produces a report in every Parliament advising the government on spending in areas such as transport connections and energy.
Lord Adonis sparked anger earlier this year when he compared Brexit to the appeasement of the Nazis in the 1930s, and has repeatedly called for last year's referendum vote to be reversed.
In his resignation letter, he accused Mrs May of "allying with UKIP and the Tory hard right to wrench Britain out of the key economic and political institutions of modern Europe", saying the UK was "hurtling towards the EU's emergency exit with no credible plan for the future of British trade and European co-operation".
"If Brexit happens, taking us back into Europe will become the mission of our children's generation, who will marvel at your acts of destruction," he said.
"A responsible government would be leading the British people to stay in Europe while also tackling, with massive vigour, the social and economic problems within Britain which contributed to the Brexit vote."
Lord Adonis said he planned to oppose "relentlessly" the government's EU (Withdrawal) Bill in the House of Lords.
As well as Brexit, he said the recent decision to end the East Coast rail franchise three years early, would also have forced him to quit, describing it as a bailout costing hundreds of millions of pounds.
'A great shame'
MP Iain Duncan Smith said the departure of Lord Adonis was "long overdue".
He added: "It's a bit rich for him to pontificate on what he calls populism, but what most would refer to as democracy, when he himself has never been elected by a public vote. He has instead relied on preferment from others."
Liberal Democrat leader Sir Vince Cable described Lord Adonis's resignation as "a great shame", saying it showed that Brexit was being "badly mishandled".
He added that the Lib Dems would work with Lord Adonis "in fighting to end the hard Brexit that the government is recklessly pursuing".
A Labour spokesman said the government couldn't even "command the confidence of its own advisers".